Udemy is a popular platform offering online courses on various topics for students of all ages, backgrounds, and interests. With over 150,000 courses available, finding the best ones for you can be overwhelming.
Whether you're looking to upskill for your job, learn a new hobby, or try something different, Udemy has something for everyone.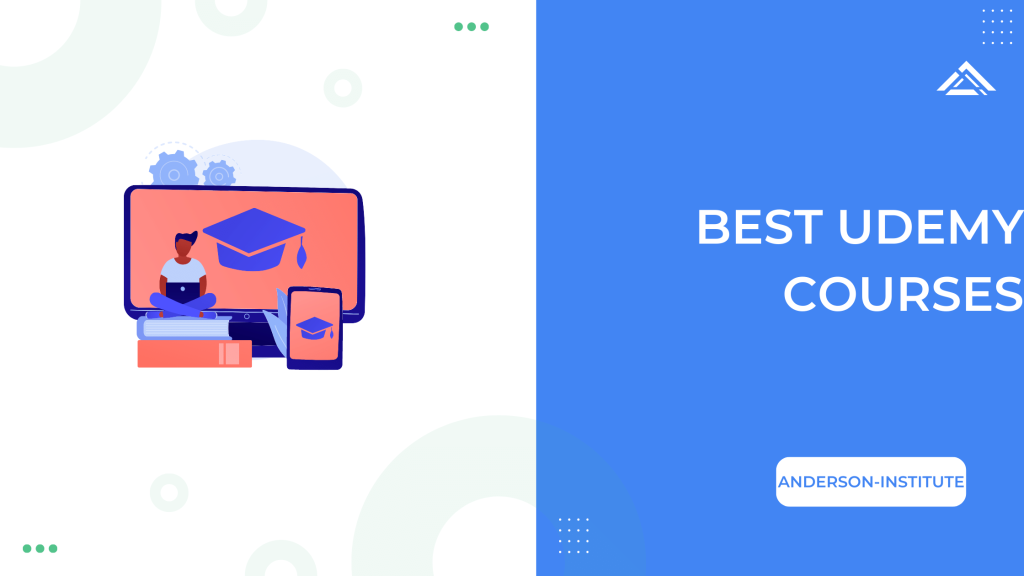 This article will introduce you to some of the best Udemy courses available today. From graphic design to programming, from language learning to mindfulness, you'll discover courses that not only teach but inspire and challenge you in new and exciting ways.
So, if you're ready to take your learning to the next level, let's dive into the world of Udemy and explore some of its best courses.
So without further ado, let us get into the article!
Are Udemy Courses Worth It?
Udemy courses can be a great investment for those who want to learn new skills or improve existing ones. With over 130,000 courses on various topics, Udemy offers many options for anyone looking to expand their knowledge base.
Although some courses can be expensive, Udemy frequently offers discounts and promotions, making them more accessible. Additionally, many courses come with lifetime access, meaning students can return to the materials whenever they need a refresher.
However, it's important to note that the quality of courses can vary, so it's important to read reviews carefully and research before investing in a particular course. If you're willing to put in the time and effort, Udemy courses can be a worthwhile investment in your personal and professional development.
Our Top Course On Udemy Of 2023:
This list is the perfect solution if you are tired of searching and reading long, extensive reviews online. Check out our favorite picks to find the course that could become your favorite too.
| Niche | Course  | Why choose this course? |
| --- | --- | --- |
| Data Science  | Data Science A-Z™: Real-Life Data Science Exercises Included | Practical approach towards Data Science  |
| Arts  | The Ultimate Portrait Drawing Course- Beginner to Advanced  | A must-have for every artist  |
| Biology  | The Complete Marine Biology 101 Course, Beginner to Advanced   | Contribution of the marine ecosystem to the survival of the planet |
| Finance  | Fundamentals of business accounting 1: Learn Quick And Easy  | Best course for all business owners and students  |
| History  | World Literature: Your Guide to Becoming a Very Well Read  | Gain an understanding of the literary history of the world in detail |
Best Udemy Courses For Data Science 
Here are some top-rated courses on Udemy on Data science for beginner and skillful learners!
1. Machine Learning A-Z™: Hands-On Python & R In Data Science
| | |
| --- | --- |
| Duration  | 44 hours  |
| Price  | $84.99 |
| Rating  | 4.6/5 |
Machine Learning A-Z is the perfect course for all coders who want to learn Python and Excel. It enables users to build machine algorithms using Python. The best part about this course is that it is also coding templated, which comes with lifetime access. 
The instructors of this course, Kirill Eremenko, and Hadelin de Ponteves, are leading data scientists and successful entrepreneurs. The course teaches you how to code and has many beneficial insights on using it for professional and personal growth in your career. 
Key Highlights:
Learn to predict algorithms accurately
Powerful analytics 
Add value to your business
Create robust machine-learning models
2. Data Science A-Z™: Real-Life Data Science Exercises Included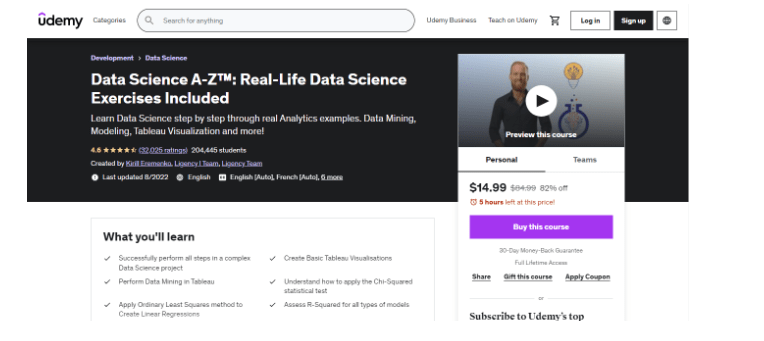 | | |
| --- | --- |
| Duration  | 21 hours  |
| Price  | $84.99 |
| Rating  | 4.6/5 |
Data Science A is filled with exciting facts and uses of data science; Kirill Eremenko also leads this course, and is a must-have for all web developers and aspiring data scientists. The course is a complete guide to learning data science step by step.
It comprises all the essential steps like real-life analytics, modeling, data mining, tableau visualization, etc. It is one of the best courses available and is offered to employees of top organizations and companies like Volkswagon, Box, NetApp, etc. 
Key Highlights:
Chi-Squared statistics 
Simple Linear Regression 
Multiple Linear Regression 
Establish and run the CAP curve in Excel 
3. Python For Data Science And Machine Learning Bootcamp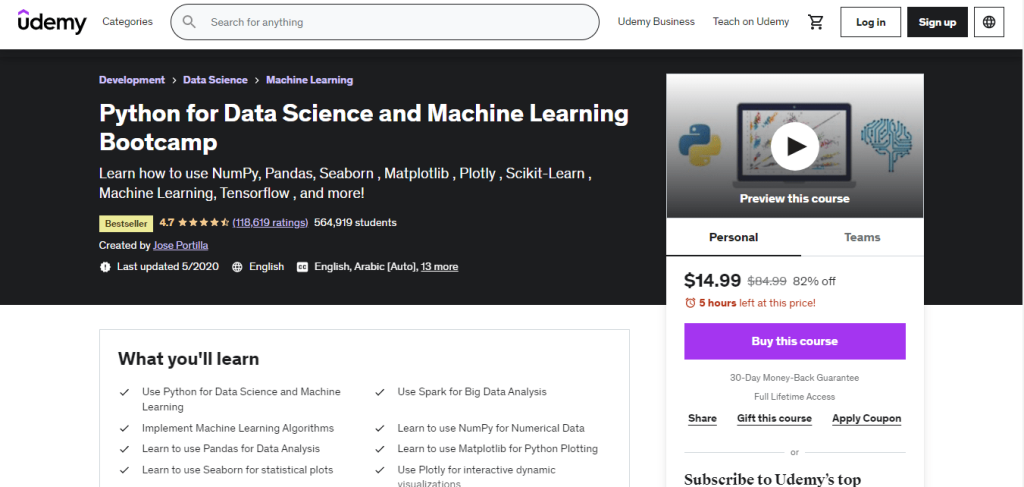 | | |
| --- | --- |
| Duration  | 25 hours  |
| Price  | $84.99 |
| Rating  | 4.7/5 |
Jose Portilla, the head of data science and Pierian training, instructs Python for Data Science and Machine Learning Bootcamp. Jose has years of experience training and guiding individuals on the right path in data science, Python, machine learning, etc. 
This course covers several vital topics for learning Data Science and Machine Learning, such as NumPy, Plotly, Tensorflow, Pandas, etc. 
Key Highlights: 
How to use Spark for deriving massive data analysis 
Simple and Multiple Linear Regression
Logistic Regression 
Support vector machines  
4. R Programming: For Data Science With Real Exercises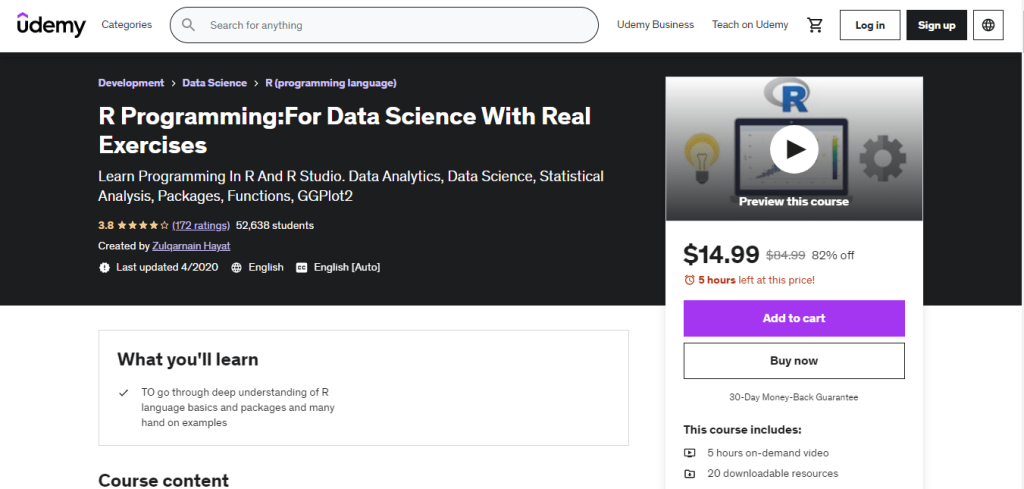 | | |
| --- | --- |
| Duration  | 5 hours  |
| Price  | $84.99 |
| Rating  | 3.8/5 |
Created by Zulqarnain Hayat, this course is perfect for all coders and web developers. Zulqaunain is a database architect and has shared some excellent tips and tricks on R programming in this course. 
This course also teaches how to use robust coding tools like R And R studio, GGPlot2, statistical analysis, etc. Moreover, the course only requires a base knowledge of programming language, including entire graphs, vectors, mean, median, etc. 
Key Highlights:
Basics of R language
How to read data from SPSS
Using histograms for quantitative variables 
How to modify existing data 
Best Courses On Udemy For Arts
If you are an artist or an art lover, below are some best Udemy courses to enhance and challenge your inner artist to learn something new and be creative!
5. Character Art School: The Complete Character Drawing Course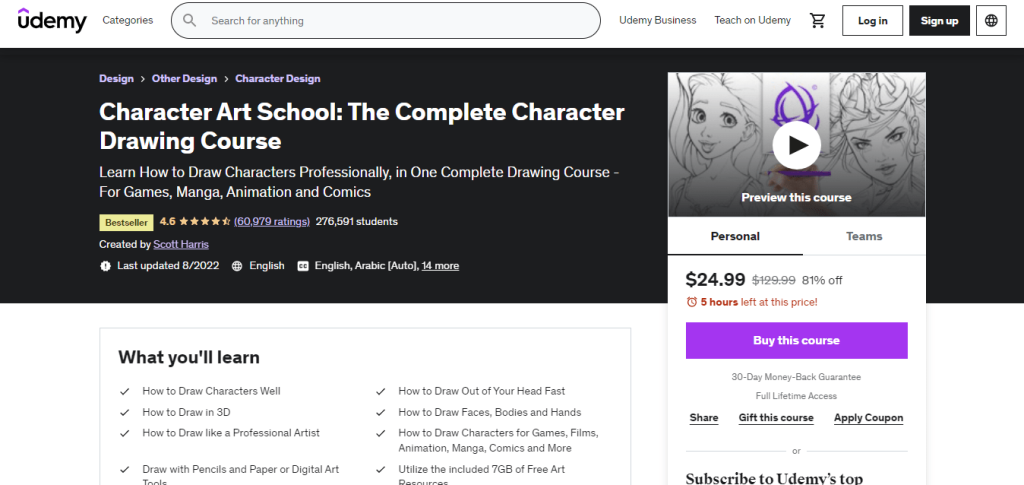 | | |
| --- | --- |
| Duration  | 26.5 hours  |
| Price  | $129.99 |
| Rating  | 4.6/5 |
The Complete Character Drawing Course is dedicated to building and drawing animated characters in Manga, Anime, and Comics. This course has one of the most talented and skillful instructors, Scott Harris, an award-winning artist, art director, and best-selling author. 
Key Highlights:
Complete character drawing 
3D character Drawing
How to articulate pictures formation inside your head 
Drawing faces, bodies, and hands 
6. Discover How To Draw And Paint Comics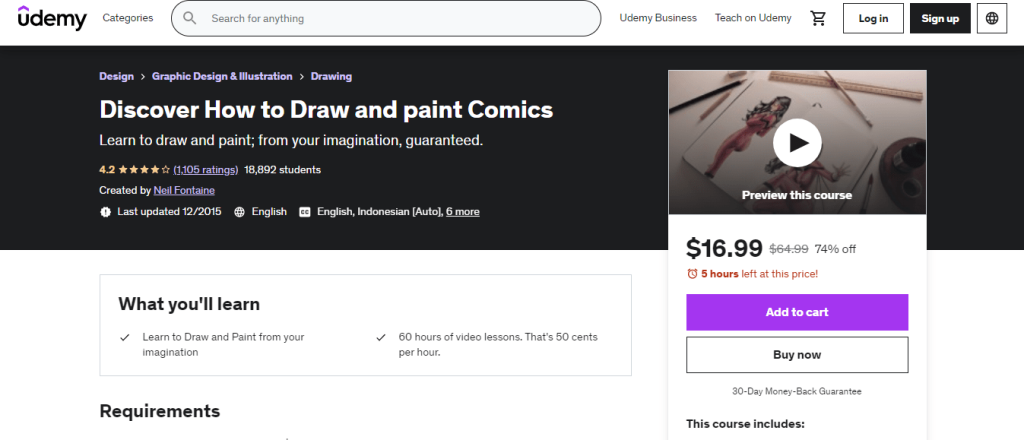 | | |
| --- | --- |
| Duration  | 62 hours  |
| Price  | $64.99 |
| Rating  | 4.2/5 |
Discover How to Draw and Paint Comics is one of the best courses for all comic lovers and cartoon artists. Neil Fontaine will teach you how to get the character in your imagination on paper precisely how you want it to be or even better!
The course covers the slightest details of character development in sketching to give it perfection. Minute details like muscles, facial expressions, hands, fingers, body, etc., are illustrated that are necessary for adding life to any comic story.
Key Highlights: 
Balancing lighting 
Perspective-driven course 
Editing photos 
Learning Photoshop 
7. The Ultimate Portrait Drawing Course- Beginner To Advanced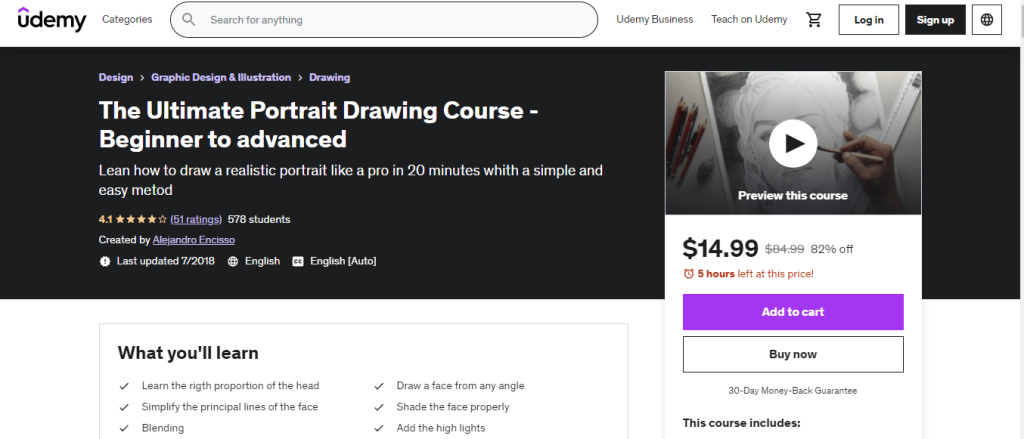 | | |
| --- | --- |
| Duration  | 6 hours  |
| Price  | $84.99 |
| Rating  | 4.1/5 |
The Ultimate Portrait Drawing Course is excellent for beginners without drawing or sketching experience. It focuses on teaching students how to draw a portrait quickly with perfection by adding an authentic touch. 
What makes this course stand out is its teaching method. Alejandro Enciso explains to the students the most straightforward ways that almost anyone can learn from and draw intermediate-level portraits. The course starts from dealing with the basics to offering excellent insights on making your portrait realistic and perfect for the professional artist. 
Key Highlights:
How to estimate the correct proportion 
Principle lines of the face
Sketch portraits from all angles 
Belding and adding highlights
8. The Ultimate Guide To Digital Sketching- Beginner To Advanced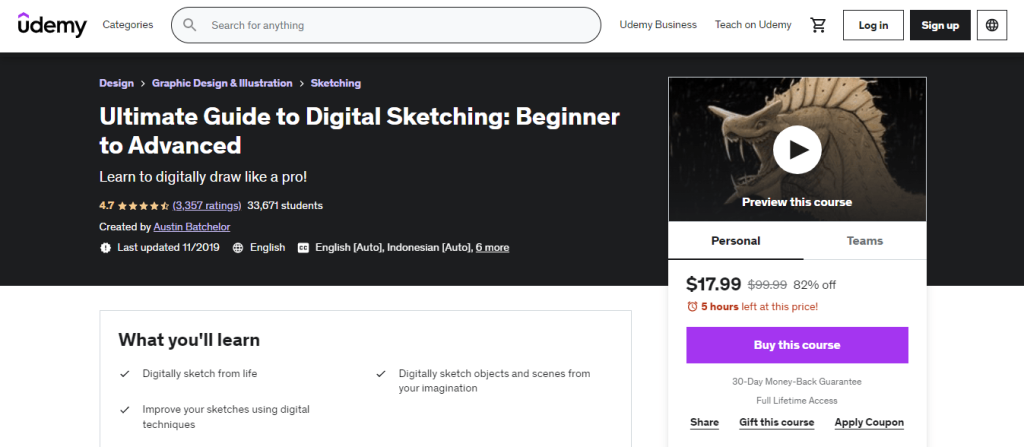 | | |
| --- | --- |
| Duration  | 5.5 hours |
| Price  | $99.99 |
| Rating  | 4.7/5 |
The Ultimate Guide to Digital Sketching is an excellent course by Austin Batchelor, a brilliant concept artist and illustrator. This course has a targeted approach toward digital drawing and comprises primarily advanced skills. 
Starting from the fundamentals of digital drawing, Austin also includes some outstanding suggestions on taking inspiration from our daily life for creating digital art. The latter part of the course deals with all the details and intricacies of digital sketching and making and is best suited for professional and intermediate artists and illustrators.
Key Highlights: 
Turn real-life elements into digital art
How to sketch images and designs from your imagination 
Enhancing existing sketches through digital art
Basics of Procreate and Photoshop 
Best Udemy Courses For Biology
Below are some of the best Udemy biology courses filled with knowledge about the human body and other life sciences.
9. Introductory Biology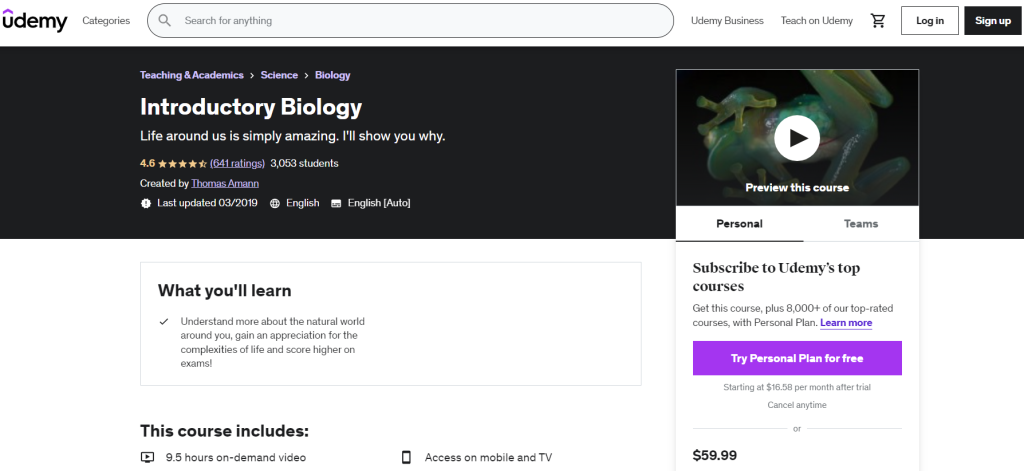 | | |
| --- | --- |
| Duration  | 9.5 hours  |
| Price  | $59.99 |
| Rating  | 4.7/5 |
Introductory Biology is the perfect course for adults and children to build interest in the life around us. It has some excellent insights into the life around us and the mechanism behind the natural world. 
Led by Thomas Amann, this course is the ideal fit for high-scroll students who wants to level up their scores in biology as it explains the complexities of nature, including plant and animal life surrounding us. 
Key Highlights: 
Characteristics of life 
Essential of homeostasis 
Cell and why is it the building unit of life 
DNA
10. Cancer Biology 101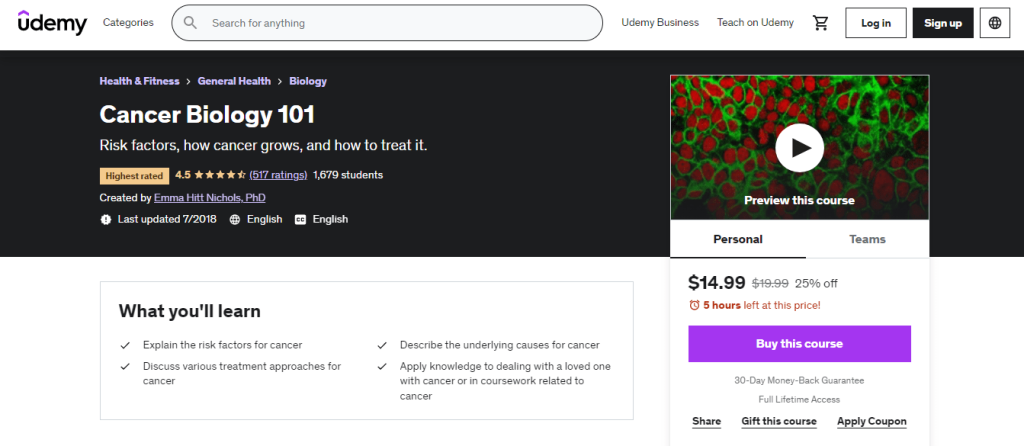 | | |
| --- | --- |
| Duration  | 1 hour |
| Price  | $19.99 |
| Rating  | 4.5/5 |
Cancer Biology 101 is a beginner-level course that deals with the vitals of oncology. In this course, you will cover all the prominent causes of cancer in humans, how cancer cells conquer and destroy our health, and the potential treatments for it in the medical field. 
Dr. Hitt Nicholas is a medical communications specialist who earned her Ph.D. in molecular biology after years of experience working in a lab. In this course, Emma tries to explain the complexities of cancer in the simplest ways possible for everyone to understand and maybe save their loved ones from potential risks. 
Key Highlights:
Exiting factors for cancer 
The underlying cause of cancer
Viable Treatments for cancer
How to deal with a loved one affected by cancer
11. General Biology I: The Foundation Of Biology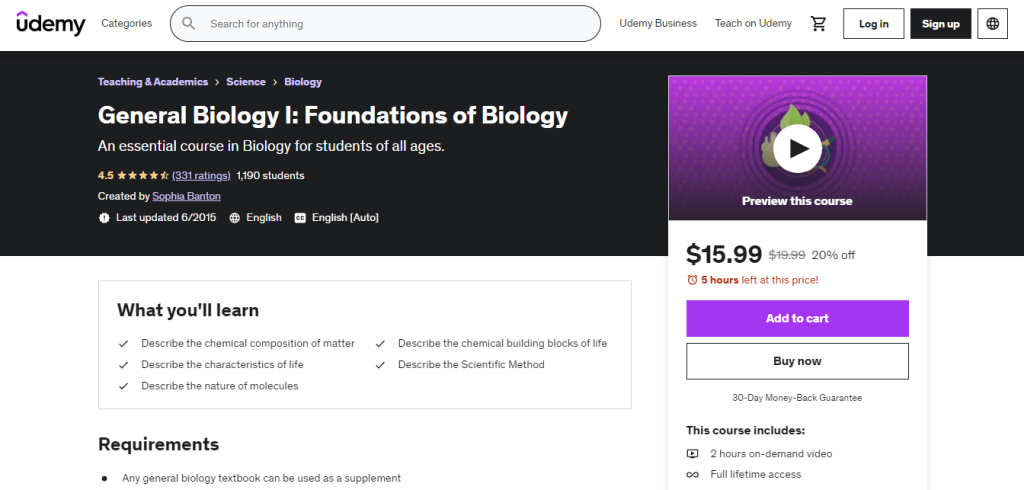 | | |
| --- | --- |
| Duration  | 2 hours  |
| Price  | $19.99 |
| Rating  | 4.4/5 |
General Biology I is a must-have course for all academic students of biology. The course deals with the chemical compositions and foundation of biology, which is quite helpful to students in understanding the building blocks of life. 
Sophia Banton brings a unique approach to this course with her knowledge and experience in bioinformatics. She shed light on how technology can affect biology and its study and help us gain a deeper understanding of the inner world of life science. 
Key Highlights:
Breaking the chemical composition of matter
What is the scientific method? 
How is chemistry responsible for building life on earth  
Molecular natures 
12. The Complete Marine Biology 101 Course, Beginner To Advanced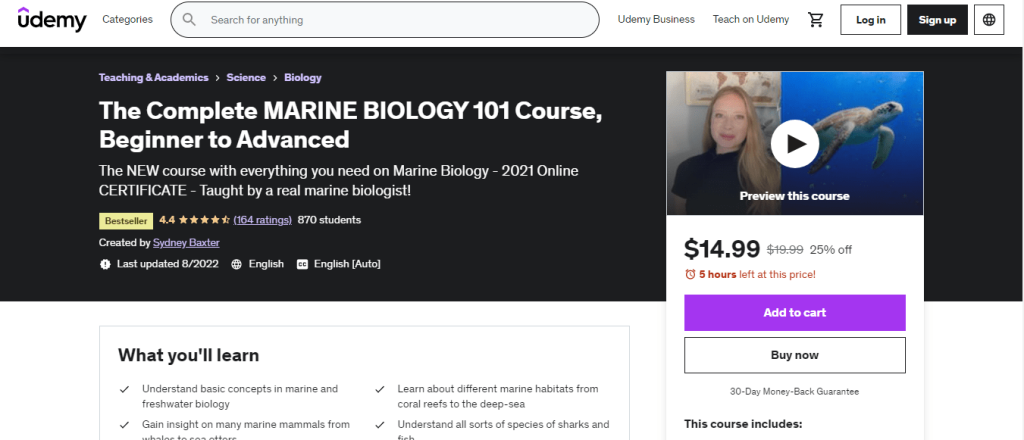 | | |
| --- | --- |
| Duration  | 1 hour |
| Price  | $19.99 |
| Rating  | 4.4/5 |
The Complete Marine Biology 101 Course is one of the best-seller courses on Udemy. The reason is that a marine biologist created and led the course. Sydney Baxter, who has been practicing marine biology for years, gives access to live underwater and the habitat of the different organisms in the sea. 
The course is like a complete encyclopedia on marine life, including the evolution of various sea species, adaptations, and habitats of several underwater animals, etc. 
Key Highlights: 
Habitat diversity from coral reefs to deep oceans 
Understanding the living habits of different marine species like sharks, whales, etc 
How is climate change impacting underwater life 
Endangered sea animals 
13. Cell Biology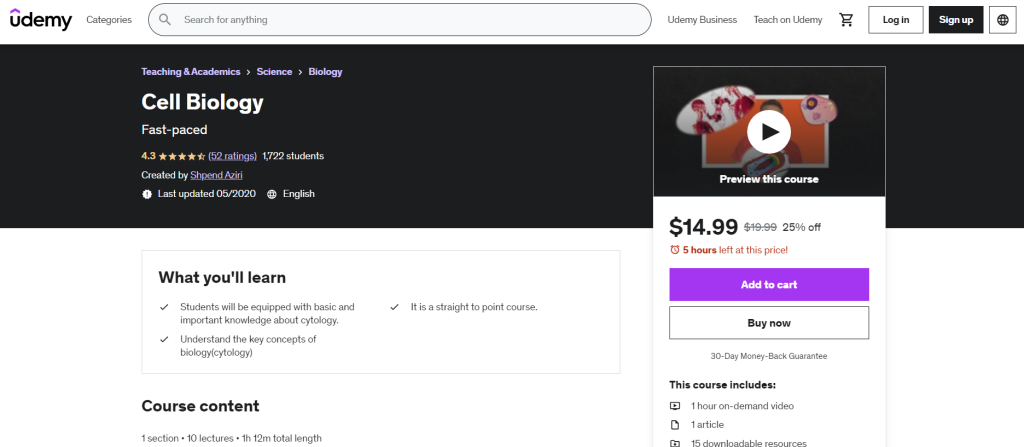 | | |
| --- | --- |
| Duration  | 1 hour |
| Price  | $14.99 |
| Rating  | 4.3/5 |
This course provides an in-depth look at the fundamental concepts of cell biology. It is taught by Dr. Bruce Stillman, an award-winning scientist, and expert on cell division and genome replication.
The course explains the biology of healthy cells and what goes wrong when disease strikes. There is a strong focus on how errors in normal cell processes lead to cancer. Real examples are used to demonstrate the link between cell biology and human disease. It will especially benefit those interested in medicine, biotechnology, biomedical research, or associated fields.
Key Highlights:
Introduction cells and the basics of cell biology

Exploring the cell cycle and mitosis in detail

Cell signaling and communication

Stem cells and regenerative medicine

Cellular aging and its link to diseases
Best Udemy Courses For Finance 
For all business-oriented people, here are the best Udemy courses on finance and accounting that cater to business students and beginners or professionals growing their businesses. 
14. The Complete Introduction To Accounting And Finance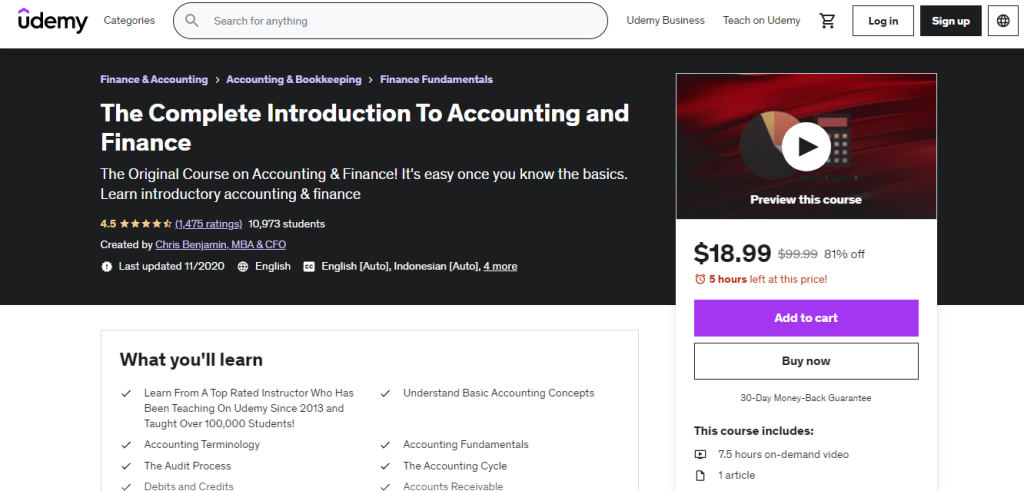 | | |
| --- | --- |
| Duration  | 7.5 hours  |
| Price  | $99.99 |
| Rating  | 4.5/5 |
The Complete Introduction to Accounting and Finance is the best course for beginners who are still studying or entering the business world. The course is a complete guide on performing accounting and managing your finances efficiently. 
The best part about this course is that it helps people to understand huge numbers and complex financial reports. The course is designed by Chris Benjamin, CFO, who completed his MBA in finance; Benjamin has been a demy instructor for over ten years and has helped many people transform their businesses and reach great lengths. 
Key Highlights: 
Fundamentals of Accounting 
Audit process 
Understanding the use of debit and credit cards 
Balance sheets 
15. Finance For Non-Finance: Learn Quick And Easy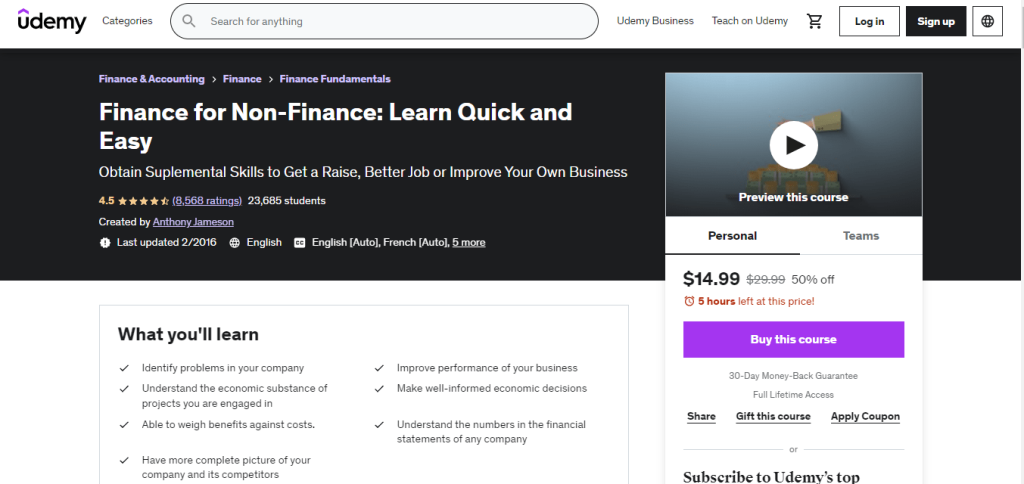 | | |
| --- | --- |
| Duration  | 1.5 hours  |
| Price  | $29.99 |
| Rating  | 4.5/5 |
Finance for Non-Finance is an excellent course for people pursuing a promotion or business growth. It explains the intricacies of the financial world elaborately yet straightforwardly, making sit easy to cope with, even for beginners. 
The best part about this course is that Anthony Jameson teaches us to master the concept of finance without investing ample time, which is ideal for working people who do not have much time to put in. 
Key Highlights: 
How to evaluate benefits against costs
Recognize errors in your business or company and seek a solution 
Well-informed financial decisions 
Understanding financial numbers 
16. Python For Finance: Investment Fundamentals And Data Analytics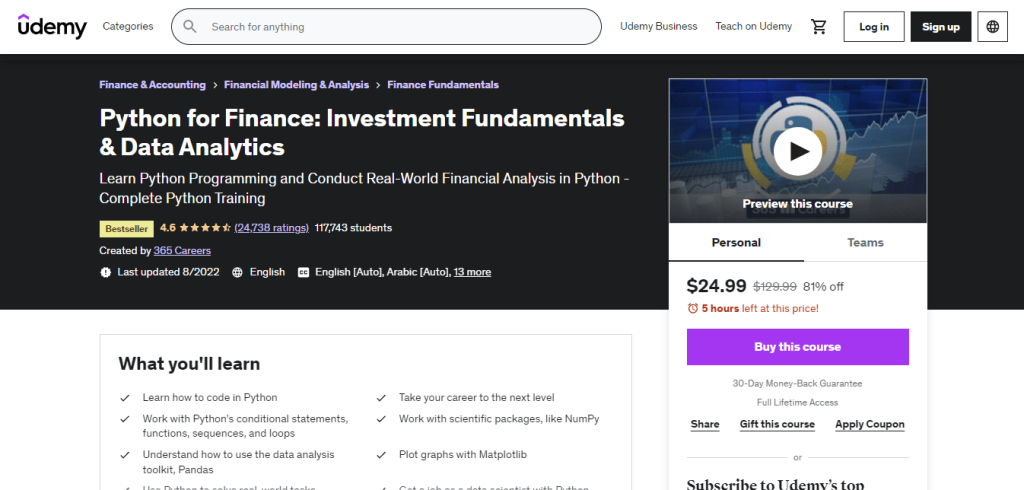 | | |
| --- | --- |
| Duration  | 9 hours  |
| Price  | $129.99 |
| Rating  | 4.6/5 |
Python for Finance is an excellent course for some with basic knowledge of Python and coding. A person with a data science background can use Python after this course to understand how, where, and when to invest to gain maximum profits. 
Moreover, you can also use Python for data analytics to understand the economic data of your company.
Key Highlights:
How to code in Python
Reach extensive height in your career 
Using Python to solve actual-world issues 
Establish investment portfolios 
17. Fundamentals Of Business Accounting 1: Learn Quick And Easy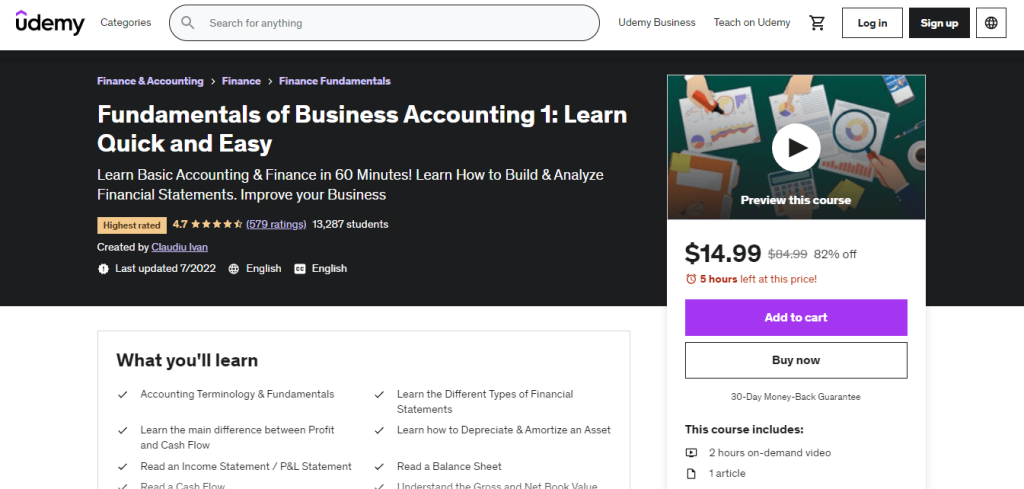 | | |
| --- | --- |
| Duration  | 2 hours  |
| Price  | $84.99 |
| Rating  | 4.7/5 |
Fundamental of Business Accounting 1 is the ideal course for people who want to take a long extensive course to learn entirely about accounting but do not know where to start. This course is for a short period and best suits people with busy schedules.
Created by Claudiu Ivan, this course is one of the highest-rated courses on Udemy because of its unique insights in such a short period. 
Key  Highlights:
What is accounting- terminology, and basics 
How to distinguish between revenue and cash flow 
Understanding a balance sheet 
Provisions and everything about them
Best Udemy Courses For History 
Suppose you are inspired by the history of the human world and how man has evolved regarding social behaviors, machines, arts, wars, etc. Here are some of the best Udemy courses on the history of the modern world. 
18. Art History Renaissance To 20th Century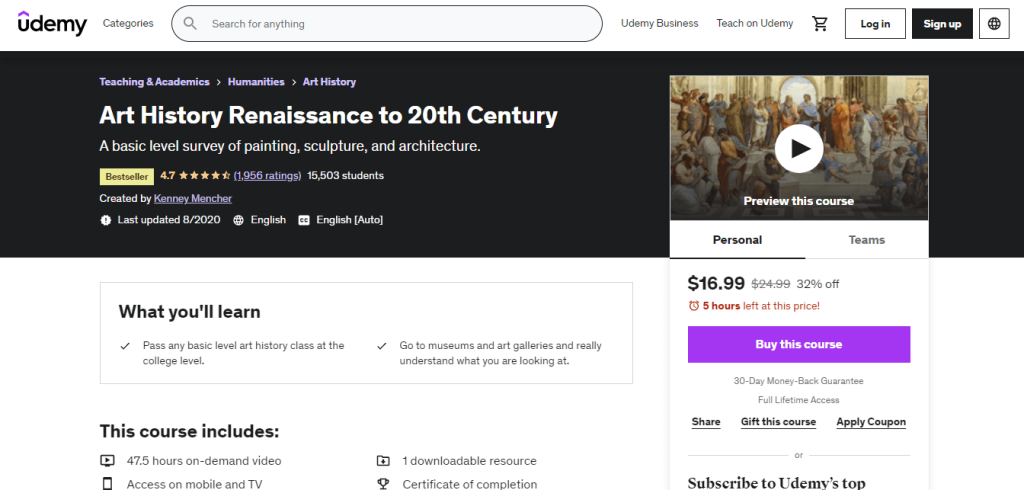 | | |
| --- | --- |
| Duration  | 47.5 hours  |
| Price  | $24.99 |
| Rating  | 4.7/5 |
Art History Renaissance is a survey of the painting, sculptures, and architecture of the 20th century. The course covers art history from 1300 AD till the 20th century and sheds light on how the lives and lifestyles of humans have changed since they used the power of art.
Key Highlights: 
University-level history 
Learning history through museums and art galleries
Interesting approach 
Engaging learning  
19. Lectures On Greek History Culture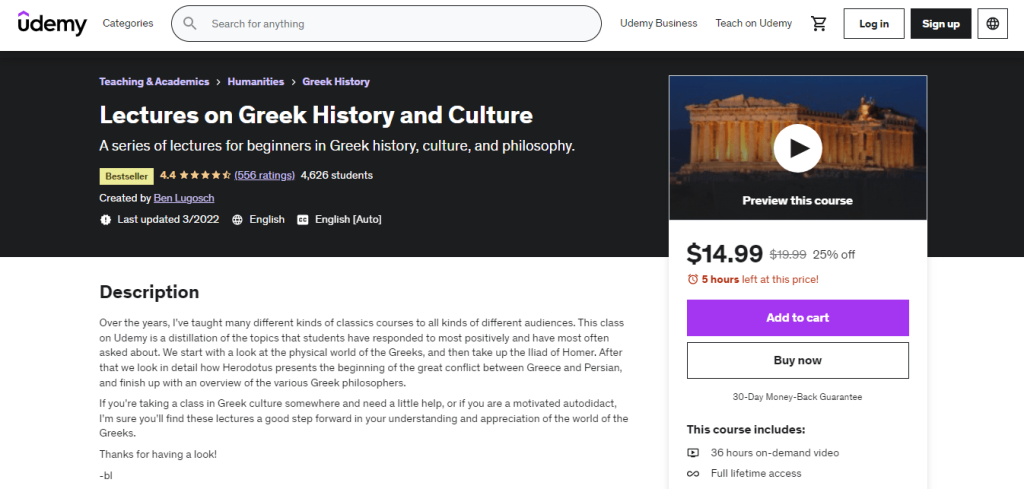 | | |
| --- | --- |
| Duration  | 36 hours  |
| Price  | $19.99 |
| Rating  | 4.4/5 |
Lectures on Greek History Culture is an elaborate course describing the historical Greek culture. Its deep knowledge and unique insights into early Greek life make it one of the best-seller courses on Udemy. 
Led by Ben Lugosch, the course starts with discussing Greek culture's physical aspects and leads to its intricacies, like Greece and Persian conflicts. Moreover, at the end of the course, you will also learn about some of the great Greek Philosophers.
Key Highlights:
Synopsis of greek history 
Homer and Homer's Iliad 
The Persian threat 
Greek material culture 
20. English History Box Set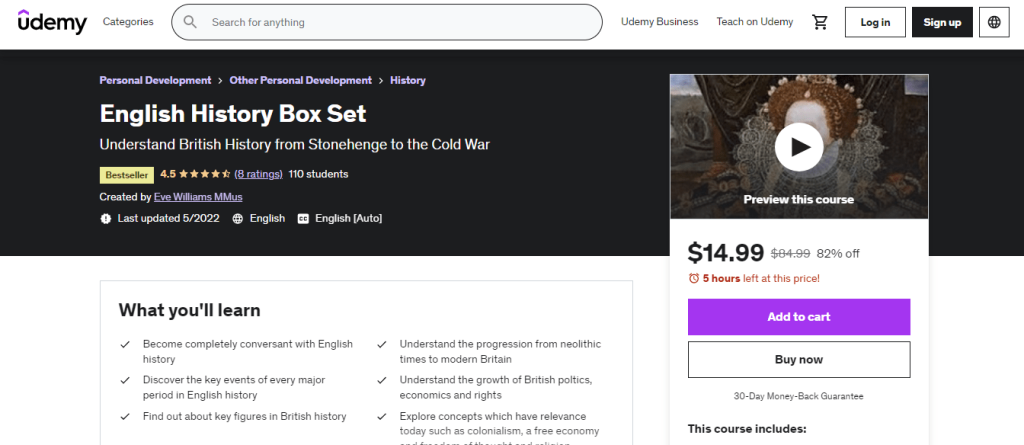 | | |
| --- | --- |
| Duration  | 32.5 hours  |
| Price  | $84.99 |
| Rating  | 4.5/5 |
The English History Box Set is a best seller among the many history courses on Udemy. This course enables access to British History that led from Stonehenge to the cold war. It has a detailed approach to British history, perfect for people who love reading about English literature and Philosophy. 
Key Highlights:
Key events in English history 
Evolution from neolithic times to Modern Britain 
Colonialism 
Freedom of Thought and Religion 
21. World Literature: Your Guide To Becoming Very Well Read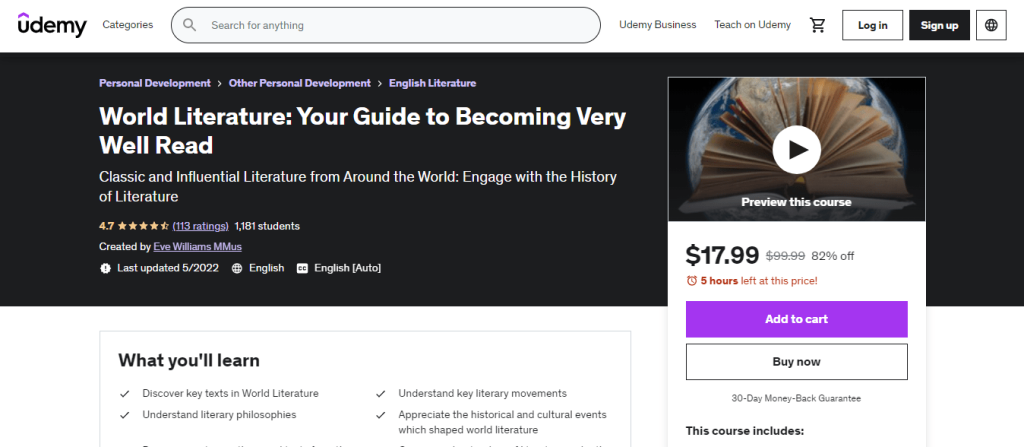 | | |
| --- | --- |
| Duration  | 20 hours  |
| Price  | $99.99 |
| Rating  | 4.7  |
World Literature comprises the literature history from various parts of the world. This elaborate approach depicts the transformations that occurred globally in the literary world when different cultures were introduced.
In addition, the course includes various philosophies that impacted the structure and functioning of the world.
Key Highlights:
Experience the joy of reading
Essential literary movements 
History of world-renowned authors 
Build textual analysis skills 
How To Find The Best Udemy Course With A Certificate?
Udemy courses with certificates are becoming increasingly popular, as many learners want proof of their education and skills to help them when applying for jobs, promotions, or courses.
However, with such a vast range of courses available, it can be challenging to find the best options. Firstly, consider your goals and needs, and search for courses that align with them.
Check the course ratings, reviews, and the instructor's credentials to ensure they are respected, knowledgeable and offer a professional learning experience.
You could also check the course syllabus and take a preview of some of the course content before committing. Lastly, compare the course fees and duration with what is available on other sites.
By following these steps, you can find the best Udemy course with a certificate that meets your needs and helps you achieve your goals.
Related Read;
Wrapping Up! Best Udemy Courses In 2023 
And that's everything you were looking for; while searching for the best Udemy courses for your favorite subject? All the courses mentioned above are the highest-selling courses with excellent results. 
While some courses help you in professional development, others will help you in personal growth. Anyhow, you will take something quintessential with your from each of these courses. 
We hope this article helped you find the best Udemy course for your preferred topic. So which course did you find the best? Let us know in the comments section below!
FAQs: Best Udemy Courses 2023
Does Udemy have good mentors for Arts?
Udemy offers some top courses by award-winning mentors passionate about creative skills and best giving back to the community.
Can I learn finance without going to college?
Absolutely! Udemy enables you to learn finance, accounting, and several other skills from any part of the world and is led by some of the top experts in the field. 
For how long my Udemy Subscription will last?
Well, that depends on the plan you are going for. If you opt for its monthly subscription, you can access any Udemy course for a month; if you are an option for the yearly plan, you get all the Udemy courses for a year. Lastly, an individual course plan enables you to buy a course and gain access for a lifetime.