Want to know which are the best Grammarly Alternatives? If so, then you have landed at the right place.
Grammarly is a popular Grammar checker tool for all your write-ups. It is a must-have software for people who write regularly. We all are confident about our writing, but there is always room for improvement. All the features of the service can be unlocked with a premium subscription. Grammarly helps you write carefully curated pieces of work. The app makes your writing shine through. It is useful for personal, professional, business, and educational uses. There are many scenarios where we need to check our spelling. The tool can be useful for all our writing requirements.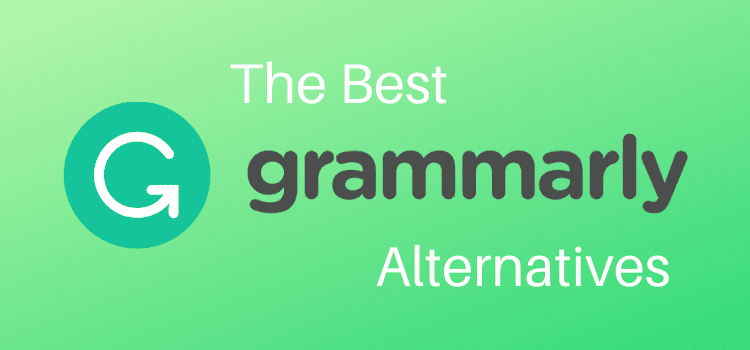 Many people are looking for other options. Today we will take a look at all the Grammarly Alternatives. There are many online web and software-based services that can do the job. Let's take a look at some of the most popular options.
List Of 11+ Best Grammarly Alternatives in 2022:
Here is a list of best Grammarly Alternatives that you should check once. Let's dive into it.
1. ProWritingAid
ProWritingAid is an excellent free-to-use grammar checker. They can help you keep track of all the errors in a document. It is a unique method of regulating your work. The software is also available for cheaper in its premium subscription.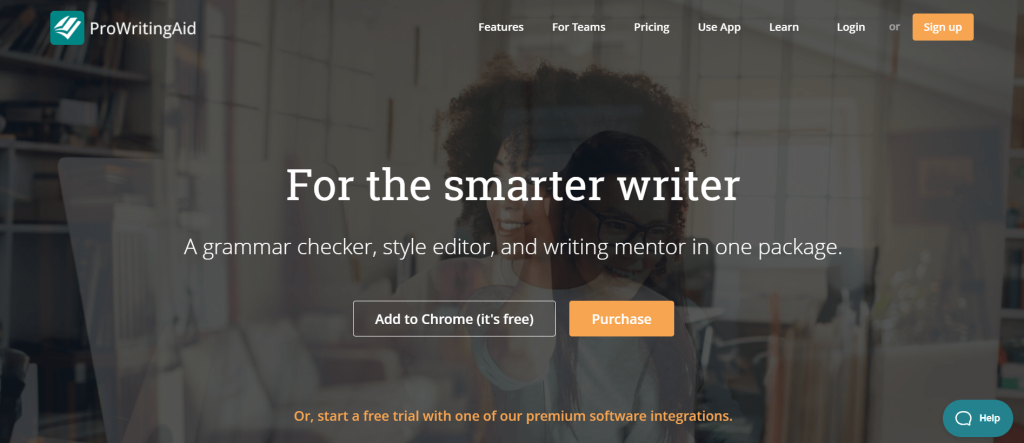 ProWritingAid will work with all significant web writing apps like google docs. It also has extensions for software like Microsoft Word and much more. Choose the style of writing you want to portray with the document. The tool will give you suggestions according to your requirements. The website is quite convenient to access for newcomers. The artificial intelligence-powered grammar checker is your best option for writing flawless documents. ProWritingAid offers a web editor for all its users. Sign up on the platform to start using their free services. Check your writing quickly with the software.
ProWritingAid Key Features:
Here we have listed features of ProWritingAid. Let's dive into it.
Improve Writing: ProWritingAid improves the efficiency of grammar, spelling, writing skills, and readability improvement in real-time as you write.
Writing Report: ProWritingAid offers more writing reports than any other tool. It highlights the repetitiveness, sentence length variation, passive voice, vague wording, and many more.
Style and Strength: It helps you suggest the style that improves the clarity and power of your writing. ProWritingAid has a copy editors team with thousands of rules covering the most vital style improvement you can make.
Eliminate Errors: Writers lose credibility faster as they make grammar and spelling mistakes, but ProWritingAid helps you submit clean and error-free writing.
ProWritingAid Pricing Plan:
ProWritingAid offers three basic pricing plans to its users, which are listed below.
A monthly subscription plan costs you $20 per month.
A yearly subscription plan starts at $59.25 for a yearly subscription.
A lifetime plan costs you $299.25 for a lifetime.
2. Whitesmoke
Whitesmoke is a professional-level online writing tool. The app will detect all of the errors in your document quickly. The unexpected errors get instantly recognized with the app.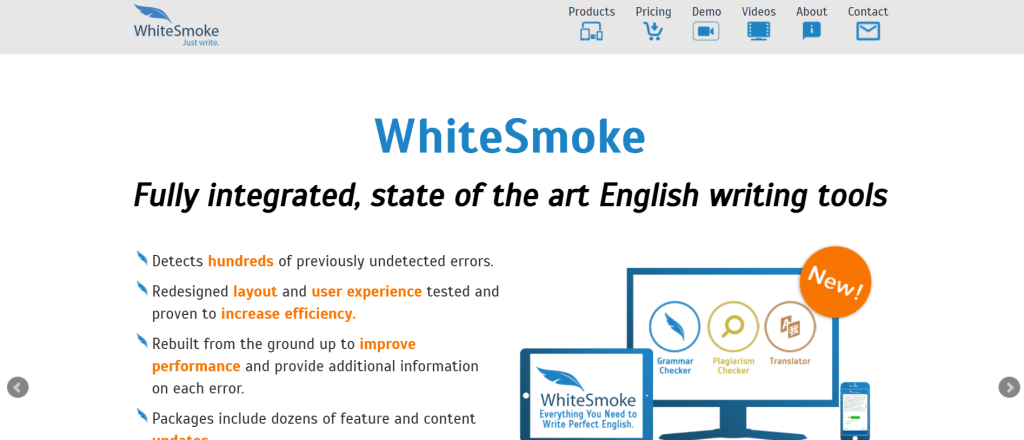 The entire layout has been redesigned recently. User experience is given a high priority to the users. You can get guaranteed results with the software. They offer only premium services to users. Whitesmoke needs to be purchased for their grammar uses. App pricing is quite reasonable. It is very inexpensive in comparison to the other services available. The software is compatible with all major operating systems. You can correct your mistakes in a write-up quickly with the software. Users also get a premium plagiarism checker. It is beneficial for college students who need to submit assignments. Whitesmoke can also be used to translate all the necessary documents.
WhiteSmoke Key Features:
Here we have listed robust features of WhiteSmoke. Let's get inside into it.
Grammar Checker: WhiteSmoke grammar checker helps writers write an error-free article to avoid embarrassing mistakes. This feature enables you to transform your writing into a professional and clear piece of work.
Spell Checker: This feature enables you to check errors in writing and spelling. It generates a spelling database that allows you to keep up to date with the English language and ensures the clarity of writing with correct punctuation.
Punctuation Checker: This feature helps you to correct your punctuation error without showing your mistakes instead, it highlights your and offers solution and tips which helps you to avoid punctuation mistakes.
Style Checker: WhiteSmoke style checker helps you identify the stylistic error in your writing. This tool quickly finds your mistake and gives you options on how you would correct them.
WhiteSmoke Pricing Plan:
Whitesmoke offers a very cheap and affordable pricing plan for all its users to enjoy its services.
Web Plan will cost you $ per month
The Premium plan costs you $6.66 per month
The business plan starts you at $11.50 per month
3. Jetpack
Jetpack is a multipurpose online tool for WordPress. Web developers need write-up checks the most. If you are a blogger, you need to check the quality of your content. It is essential to invest in SEO. The grammatically correct content will help you quickly convince your readers.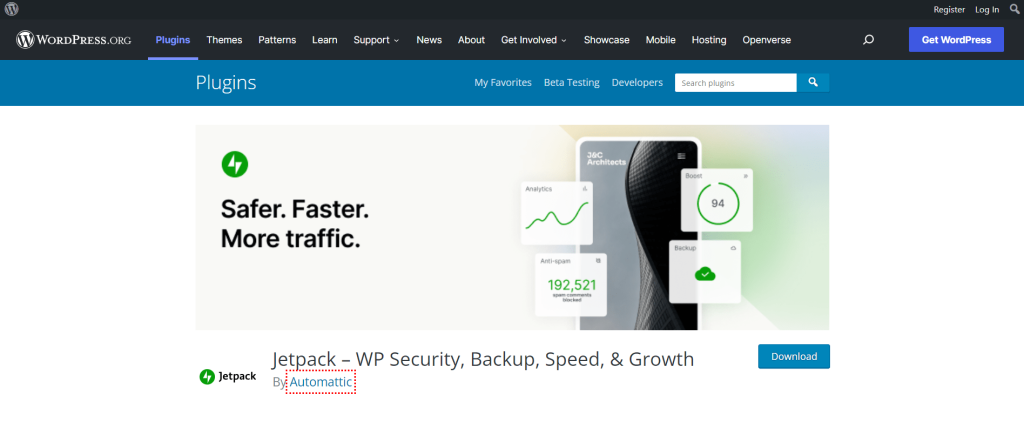 Jetpack is a must-have online plugin for all web developers and bloggers. Content creators will find it easy to publish articles on their websites with the tool. These days the plugin comes preinstalled with WordPress. There are high chances that you are already using the device. Users can enable Jetpack proofreading features to get better writing results. The proofreading software will give you flawless articles. The tool is easy to configure with the WordPress settings. It can work with languages other than English as well. Jetpack works flawlessly with Spanish, Portuguese, German, and French.
4. Slick Write
The slick write website is an online tool to check your work. The services are entirely free for use on all platforms. The open application makes it easy for users to correct their grammar errors. Set your writing style with the tool. It is a multipurpose website and is beneficial for everyone who writes. SEO experts, students, professionals, and bloggers can all reap the rewards.

The grammar checker is lightning fast on the platform. It is a helpful tool for creating engaging documents for your readers. It gives you feedback on your writing. The slick writing website can help you improve your writing in general. The associator tool is a unique feature for forming new sentences. The website settings option enables you to customize a lot of features. You can start using the app instantly.
5. Ginger
Ginger is renowned writing software. It is available for free with restricted features. The software is accessible for academic and report writing use. Users need to download the software on their computers for grammar needs.

It will integrate easily with your applications. It works efficiently with google docs, Microsoft office lineup, and social networking sites. It is available as a chrome extension too. Keep it running in the background to get your grammar suggestions. Ginger is available as software across all platforms. It works on Android and iOS devices as well. The software is quite efficient and can help you with translation too. It supports over 40 different languages.
Students love the application for their writing needs around the world. The free version lacks a few features but is quite functional. The premium version of the app will change the way you write.
Ginger Features:
Ginger offers very robust features to all its users. Let's get inside into it.
Grammar Checker: Ginger grammar checks help you to write correct sentences. The grammar checker uses patent-pending technology to correct spelling mistakes, grammar mistakes, and misused words.
Sentence Rephrase: Ginger sentence rephrase makes it simple for everyone to write high-quality text, with one click, users can rephrase sentences with words, synonyms, antonyms, idioms, and phrases.
Punctuation Checker: Ginger punctuation checkers helps to improve your efficiency of writing and correct punctuation mistakes.
Spell Checker: Ginger spell checker corrects the most severe spelling mistakes with unmatched accuracy.
Ginger Pricing plan:
Ginger offers a very affordable and cheap pricing plan to all its subscribers.
The annual Plan costs you $7.49 per month.
The quarterly Plan starts at $11.19 per month.
The monthly Plan costs you $13.99 per month.
6. Paper Rater
Paper Rater is an online web-based proofreading service. It is aimed at students and beginner writers. You can check the quality of your assignments with this website. Copy-paste your text on the site to get your grammar suggestions. There are very few settings available to check the options. Users can select different educational levels. It will help you get relevant recommendations for grammatical errors.

The overall vocabulary is also improved with this online service. There is an optional plagiarism detection tool built in. It is beneficial for students who are writing reports. The website also provides you with subject-specific results. Input the class for which you are typing the assignment to get your results. Overall it is an excellent online service. We recommend this to all students who want a free grammar checker.
Paper Rater Key Features:
Here we have listed key features of the Paper rater. Let's dive into it.
Plagiarism Checker: This feature helps you to detect plagiarism. It offers an original score that indicates the percentage of a paper that is original.
Grammar and Spelling Checker: With these features, you can detect and correct the errors in grammar and spelling mistakes.
Real-Time Real Easy: This feature takes minutes to generate results, its automated proofreader generates results in seconds.
Paper Pricing Plan:
Ginger is offering two types of pricing plans to all its users.
Free Plan is absolutely free for everyone.
The premium plan will cost you $14.95 per month.
7. Grammar Checker by SmallSEOTools
SmallSEOTools is a popular website that is home to much website-related content. It provides users with quality tools and services. You can find the best web development and blogging services here.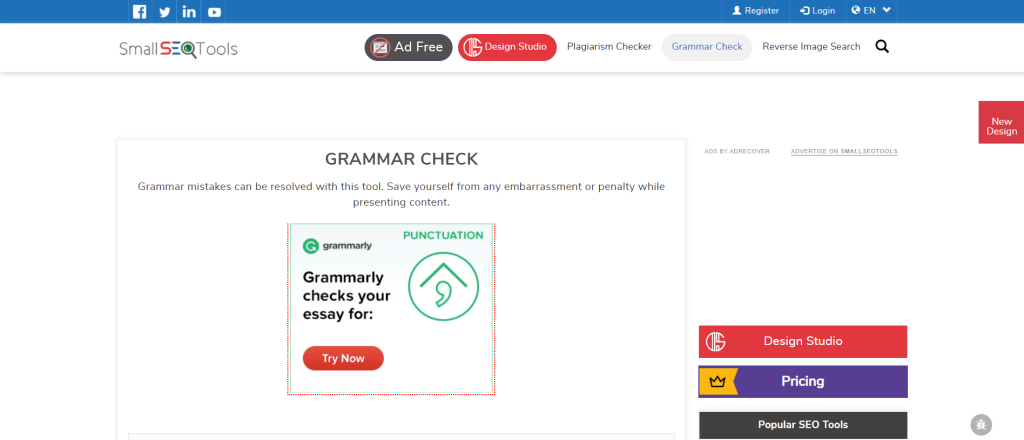 The grammar checker is an essential SEO service on the website. Copy-paste your document in the textbox to check your spelling, vocabulary, and composition. There is a free plagiarism checker on the site. Get your blogs and online content analyzed with this document checker. The software can auto-detect many languages. It works with all types of diction. Users are provided insight into their documents. It includes information like reading time, characters, and speaking time. You can upload your documents directly through drives like Gdrive, Dropbox, and Onedrive. Users can also copy-paste to get results.
8. 1Checker
The 1Checker software works amazingly well on all platforms. It is quite efficient in the job. We recommend this tool for proofreading and grammatical errors.

1Checker tool is available as standalone software on Windows and macOS. It is the best service to enhance the readability of your software. The device also works as a plugin for Microsoft word. The software is available for free on all platforms. It is a must-have for anyone who writes. Users can enjoy the features of the checker software online as well. You need to sign up for an account on the website. Try this service out today.
9. Online Text Correction
OnlineCorrection is one of the most amazing platforms to create high-quality documents. You can improve your writing skills with the tool.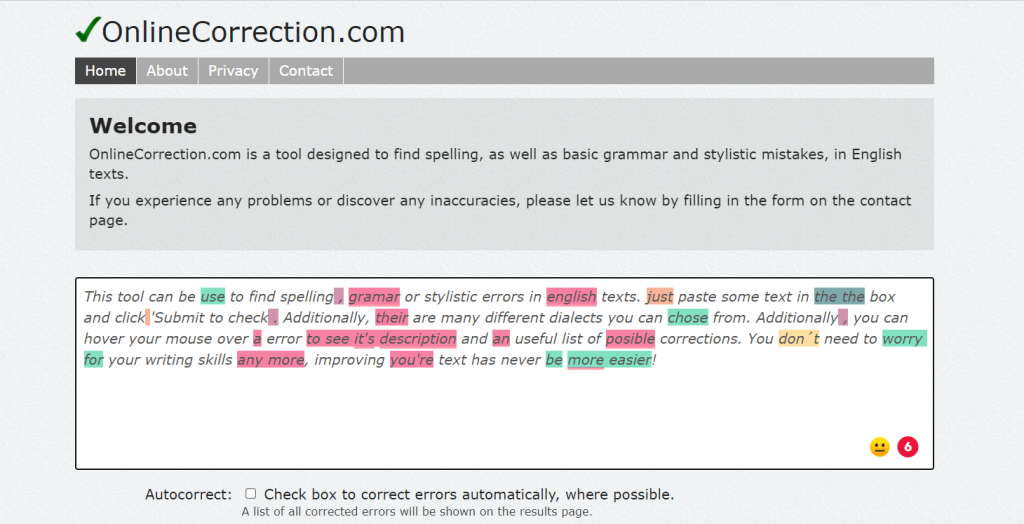 The software enables you to write on the fly. It is entirely online and doesn't require a lot of expertise to use. The interface is simple and easy to understand. It is aimed at helping you find all grammatical and spelling errors. Online correction works only with the English language. They have different websites for different styles. The platform has minimal settings. It is recommended that newbies try this website out.
10. Hemingway editor
The Hemingway Editor is a helpful online tool for checking spellings. The device acts as a great alternative to Grammarly. Hemingway has recently released a desktop app for its grammar checker.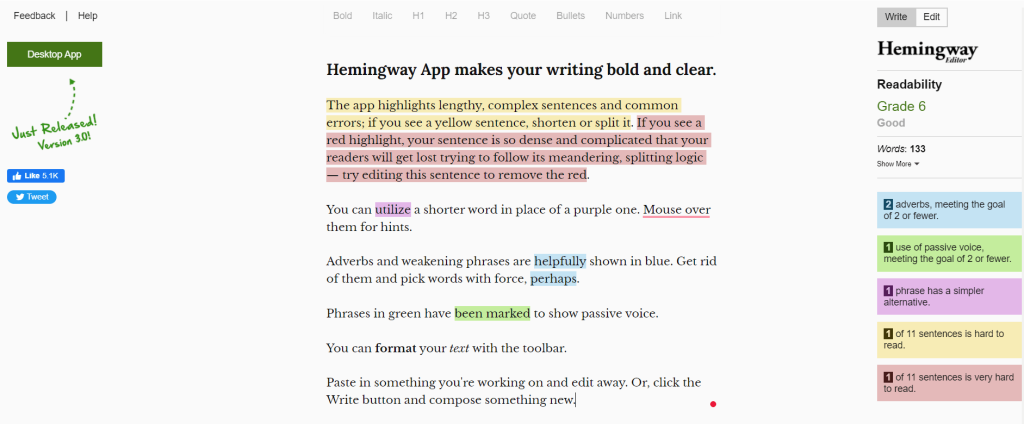 You can check the readability of your document with the editor. It provides you with essential information like the number of adverbs, passive voice use, and much more. Users are provided with alternatives for their sentences. You are notified about the hard-to-read sentences. The app suggests changes to make your writing more mature.
11. Wordtune:
Wordtune is a Google Chrome extension that works on artificial intelligence that helps businesses, educational institutes, and other professionals to rephrase or rewrite sentences to improve their writing skills. It is a very user-friendly tool that is best for rewriting your copy, making it easy to understand.

With Wordtune, you can rewrite sentences in more than 9 languages. The best part of this tool is that it has the best shortcut keyboard that makes the workflow easier. It has an online editor, which can be accessed when you want to proofread the content from elsewhere.
Wordtune Key Features:
In this section, we have given key features of Wordtune. Let's get inside into it.
Style Editor
Sentence Rephrase
Grammar Checker
Tone Detection
Autocorrect
Plagiarism Checker
Sentence Formatting
Wordtune Pricing Plan:
Wordtune offers two different types of pricing plans.
The free plan is free for every subscriber.
The premium plan will cost you $9.99 per month and $119.88 per year.
Related Read:
Conclusion:
Grammarly is a fantastic platform for checking your grammar. Many people are tired of the lackluster free version. In this article, we discuss Grammarly alternatives at length. There are many feature-rich services available online, which are viable options. You can try these services out to enhance your writing. Give your readers the extra punch with this tool.