Whether you are a student writing a thesis, or a working professional working on your content, you always aim for the best and most original material. No matter how brilliant a writer you are, there are chances that plagiarism can be found in your work. To avoid that, you must take the help of a paraphrasing tool.
There are several areas where a paraphrasing tool may save your day. Let's take a look at some of them.
Creating content to increase the quality and ranking of a website.

Working on your university thesis.

Working on Search Engine Optimization and Social Media Marketing.

Writing a huge amount of quality content in a limited time.
Why Do You Need a Paraphrasing Tool?
A paraphrasing tool is the best to locate plagiarism in your content. You can be accused of copying someone else's work even with 5 mirrored words in your piece. These tools are the most efficient and easiest way to make your work as original and unique as possible.
Just with a few clicks, the tool provides you with a whole new modified version of your content, while keeping the meaning the same as the original one. With every click, you get a new version of the sentence and you can pick the best-looking one for your final submission.
How Does Paraphrasing Tool Work?
It simply takes the source text and rewrites it in a different way using synonyms, while maintaining the original idea and meaning of the text. This is achieved by the paraphrasing engine reading the source content, analyzing the meaning and expression, and then creating the new version using the best possible synonyms, phrases, and words.
Some paraphrasing tools use complex algorithms and AI engines to produce the paraphrased content as per your requirement. You can create different versions such as formal, creative, or shortened, for your work. You also get the facility to alter the synonyms in some tools.
List Of 5 Best Paraphrasing Tools
The selection of the perfect paraphrasing tool solely depends on the type of work you are doing. The different tools may provide you with different content suitable for specific work areas such as web page creation, blog writing, or simply college thesis.
To assist you in picking up the best one for you, I have compiled a detailed analysis of some of the top picks from the market. Let's have a look at each of them:
1. QuillBot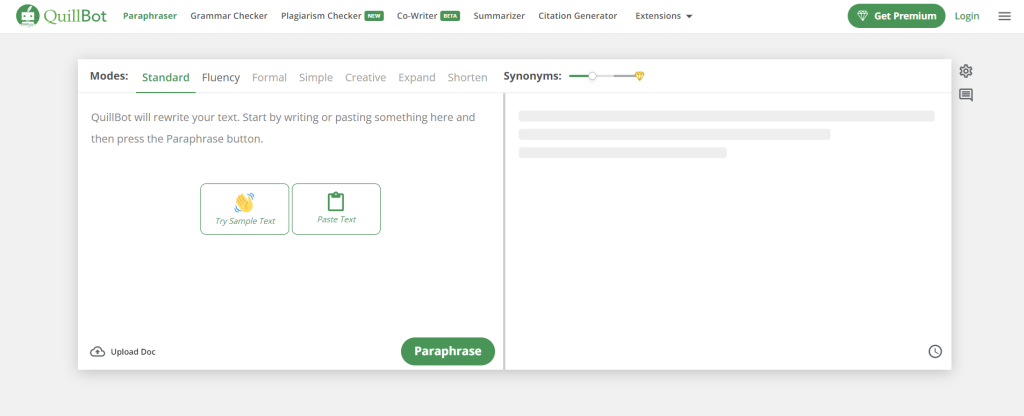 The first one on the list is Quillbot which is a clear winner by a mile. This paraphrasing tool is trusted and used by millions of internet users to write creative content, legal writings, medical content, etc on a daily basis.
Features:
The tool offers a basic paraphrasing facility with a few versions of the original content. All you need to do is click the rephrase, and every time it provides you with a new version with different phrases and synonyms. The tool produces rewritten texts with an option to alter the words and phrases as well. You can simply click on any word on the paraphrased text and it suggests the alternatives which you can use.
The powerful AI engine helps you rephrase your writing in various modes as well
Standard: The default setting that paraphrases the source text while maintaining the original idea and meaning of the content.

Fluency: Gives you the content highly accurate and natural as far as the grammar is concerned.

Creative: Makes as many changes possible to provide you with the most creative texts.

Creative +: The AI engine tries to understand the idea as well as the expressions in the source content and gives you creative paraphrased material.

Formal: Performs alterations to the phrases and uses the most common synonyms to make them easy to understand for formal readers.

Shorten: Focuses on using the least amount of words and phrases while keeping the meaning intact.

Expand: Increase the length of your original content by stuffing as many words as possible

.
Benefits:
The tool is extremely easy to use and produces well-crafted and accurate content.
Various paraphrasing modes for your convenience.
The smart AI engine recognizes grammatical and spelling errors before paraphrasing the content.
Drawbacks:
Sometimes you may end up with a poorly compiled sentence that might need further alterations in order to keep the original meaning intact.
Most of the paraphrasing modes are available only in the paid version.
Pricing Information:
Quillbot is a free-of-cost web program but if you want to use the different paraphrasing modes, you can buy the premium services for $9.95/month.
2. SpinRewriter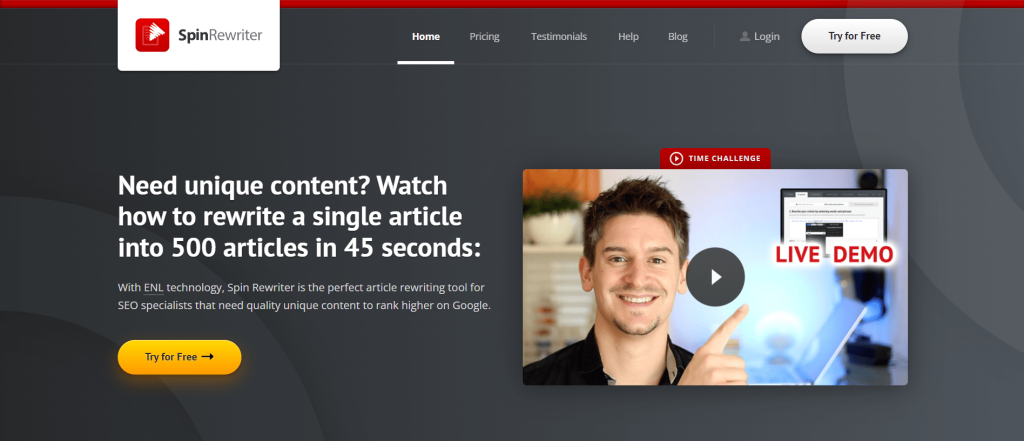 Launched in 2011, SpinWriter is one of the oldest article spinning software available on the market that you can use to rephrase your text material online. The Content generated by this tool comes the closest to the one written by an actual human. The program is supported by Emulated Natural Language technology to create high-quality content for your web pages and other SEO-related work.
Features:
The program comes with a bulk paraphrasing facility that allows you to convert up to 1000 articles together. With the help of ENL technology, SpinWriter understands and analyzes the original content and provides you with the most natural paraphrased texts along with the meaning of each word in the new content.
Another great addition to its arsenal is the Stock Photo Integration feature that allows you to add suitable images to the rephrased content. Then there are some additional useful features bundled with the program such as the ability to produce numerous versions of your content, rephrase as many articles as you want simultaneously, various spintax formats, and so on.
Benefits:
One of the largest synonyms databases.
ENL technology for quality content creation.
Web plugin support for WordPress which comes in handy if you use WordPress for writing work.
Can be integrated with other tools with the help of APIs.
Drawbacks:
Paraphrased content may need too many modifications in order to keep the original meaning.
Additional charges for WordPress plugin
4000 words limit for one article
Ridiculously overpriced, even for professional use.
Pricing Information:
The program comes with 3 plans starting from $47 per month. The yearly subscription is the most popular one, costing you $197. You can also get a lifetime plan for a one-time payment of $497.
3. Paraphrase Online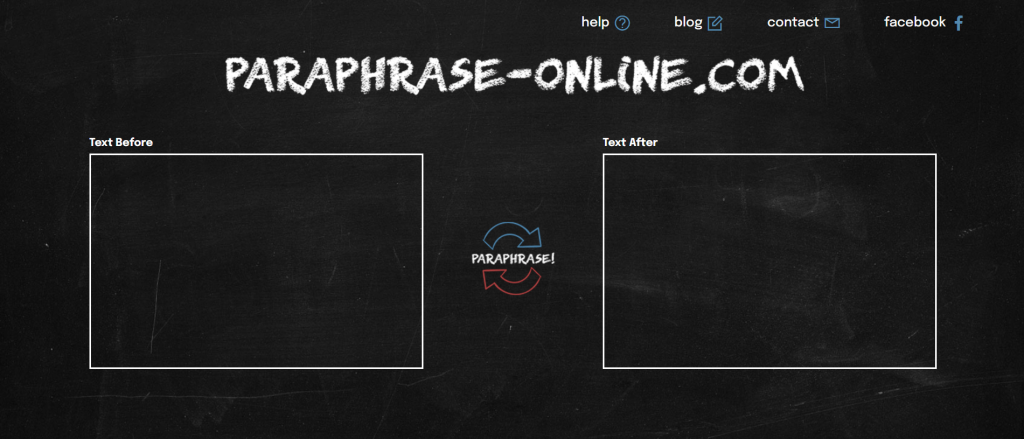 Paraphrase Online is an easy-to-use rewriting tool to rephrase your texts online. The program is suitable for all kinds of users from students to professionals who deal with articles, and other types of written text.
Features:
The website is over-simplified and one doesn't need any technical proficiency to rewrite the sentences, paragraphs, and other documentation. All you need to do is copy the texts and paste them on the website and then click on paraphrase and within a few moments, you get an entirely unique and improved paragraph.
The program uses special algorithms to analyze the original content, use the most effective and appropriate synonyms, and replace the phrases while preserving the original meaning of the texts. As a result, you are provided with totally unique and accurate content as if it was written by an actual human being.
Benefits:
Extremely easy to use article spinner with simplified website design.
No subscription fee whatsoever.
Provision to alter the words in the paraphrased content just by clicking on the particular word.
Drawbacks:
Lacks some crucial features such as rewriting modes and bulk spinning.
Paraphrasing texts contain too many synonyms at times, making them difficult to understand.
The biggest disadvantage, however, is the limited amount of text that you can paraphrase at a time.
Pricing Information:
Paraphrase Online is an absolutely free-of-cost program. All you need to do is go to the official website and start rewriting.
4. SEO Wagon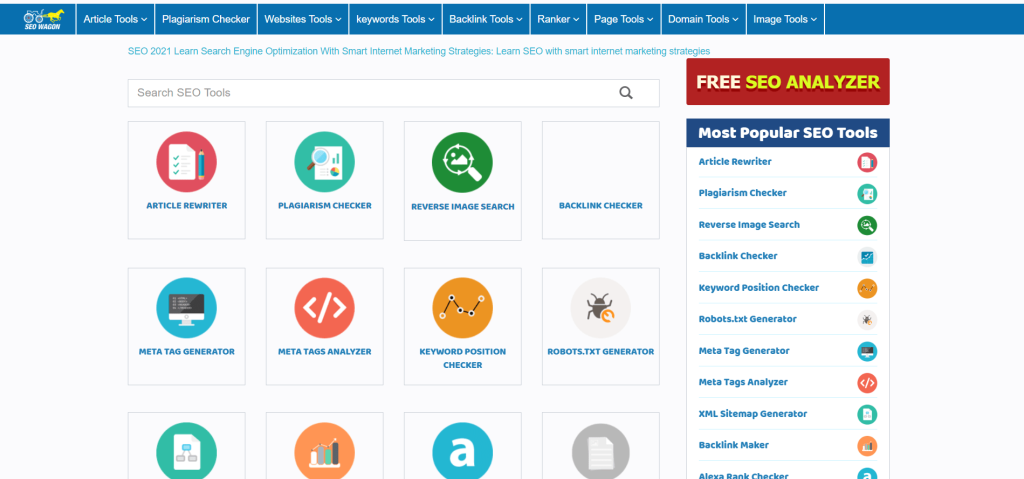 As the name suggests, SEO Wagon is a rewriting program, most suitable for SEO professionals as it is solely focused on the uniqueness of the content. If you are an SEO professional, looking for unplagiarized and effective content, you can go with this tool to find unique content for your websites, articles, and blogs.
Features:
The program comes with a basic paraphrasing feature that analyzes the source content and performs various checks to understand the idea and its meaning. It picks up the most appropriate synonyms from its library of 50,000 words, rephrases the key elements of the article, and organizes everything in such a way that you are left with a highly effective and unique text that you can use on your website, blogs, and articles.
Benefits:
Suitable for SEO professionals and Content writers promoting their websites.
No download or installation is required to use the program.
Equipped with SEO tools suitable for marketing.
The tool is fairly easy to use with a user-friendly interface.
There is also a provision to alter the words in paraphrased content with a single click.
Drawbacks:
Might take a while to paraphrase your content especially when you are trying to rewrite a large number of texts.
Sentences are often distorted, making them difficult to understand for a common user.
Sometimes, the tool fails to provide improved content as all it does is change the words with synonyms.
Pricing Information:
If you are looking for an easy and potent rephrasing tool, you can give SEO Wagon a try. There is no subscription fee to use this website.
5. SpinBot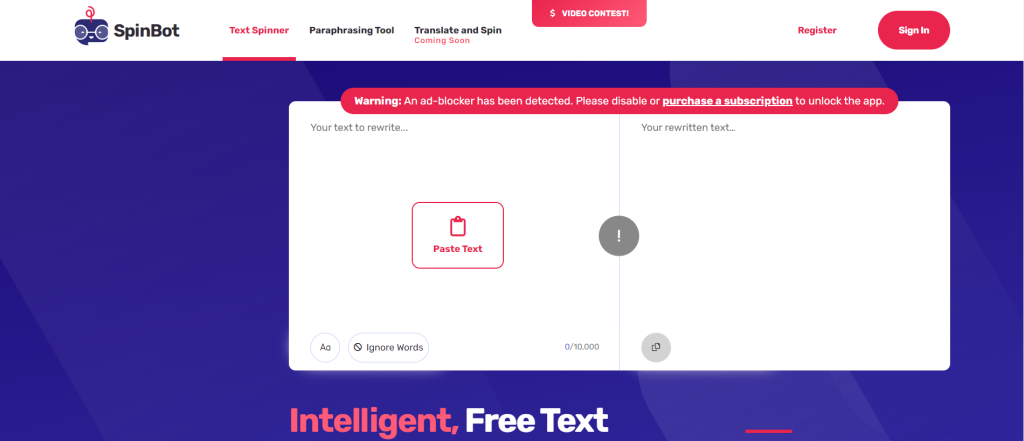 The last one on the list is SpinBot rewriter which rewrites your texts in an intelligent and easy-to-read manner. The program works on a standard paraphrasing mechanism that examines the source content and rewrites it in the most creative way by using appropriate synonyms, hence giving your idea a fresh look while maintaining its original meaning.
Features:
The website is extremely easy to use and allows you to rephrase 1000 words at a time. All you are required to do is copy your original content and paste it into the source column and wait for a few moments for the rewriting to be done. The rephrased texts are good enough to use on your personal blogs as well as marketing websites and other SEO-related work.
With Spinbot, the paraphrasing is super fast and accurate to some extent but sometimes the content requires a lot of editing to be able to make it worth reading. And there are times when the content is so heavily paraphrased that it detorts its original meaning of it.
Benefits:
The free version allows you to paraphrase 1000 words (10k characters) at a time.
Offers affordable premium plans.
Provides you with near original and plagiarism-free material.
Drawbacks:
The website is filled with advertisements and can be annoying when you are having a lot of content to deal with.
No automatic synonyms suggestions in the paraphrased content.
Captcha verification before every paraphrasing in the free version.
Pricing Information:
Developers don't charge any subscription fee for the basic version of this program. However, you can buy a subscription to remove ads and unwanted captcha verifications. The monthly plan starts at $10 along with an option to buy 6 months and a 1-year plan at the cost of $50 and $75 respectively.
Related Read:
Wrapping Up:
Hopefully, this article helps you decide on the best paraphrasing tool for you. In a world of creative writing where uniqueness is everything, a good paraphrasing tool may elevate your content and give it a new look that is more enjoyable to read while keeping it plagiarism-free. Here are a few suggestions

When it comes to the quality of the content, Quillbot is by far the best rewriting tool out there. The tool only does what needs to be done to make your texts fresh and unique. Then there are various modes of paraphrasing that allow you to create the content based on the audience.


Spin Rewriter is another great tool that provides you with high-class and intelligent texts while preserving the very idea of your content. Spin Rewriter comes with 3 tariff plans for your convenience but I suggest you go with one year plan. The tool allows you to take a 5-day trial in case you are interested in buying the yearly subscription.
Frequently Asked Questions
Which is the best paraphrasing tool for students?
Paraphrase Online is a free-of-cost rewriting tool available for students that require no technical expertise to handle it.
What is the benefit of using an online paraphrasing tool?

Manual rewriting takes hours or even days if you are dealing with a huge amount of content. A paraphrasing tool may come in handy as it allows you to rephrase bulk texts in a very short amount of time.
Why do I need to paraphrase my content?
Paraphrasing gives your content a fresh look and makes it easy to read. The primary reason why you should paraphrase our content is to avoid plagiarism.
Which is the best paraphrasing tool for SEO executives?
Quillbot is the best paraphrasing tool on the market these days. You can buy a premium plan to rewrite your texts in different modes, based on your requirements.