In today's fast-paced digital world, where writing plays a significant role, it is essential to have a tool to help correct grammar, spelling, and sentence structure.
Wordtune and Grammarly are popular writing tools using Artificial Intelligence and advanced algorithms to enhance writing skills. While both these tools can improve writing quality, each has unique features.
Wordtune is an AI-based writing assistant that helps users rewrite and rephrase sentences. On the other hand, Grammarly focuses on correcting grammar, spelling, and punctuation errors. With their unique features, Wordtune and Grammarly have become the top choices for professionals, students, and writers worldwide.
This article will provide an in-depth comparison between Wordtune and Grammarly, highlighting their features, strengths, and weaknesses. Whether you are a professional writer, content creator, or student, you will find this article helpful in choosing the best writing tool for your needs.
Wordtune Vs Grammarly: The Ultimate Comparison
What readers can expect from it: If you need help deciding which of these 2 writing assistants is worth your time and money, look at a detailed analysis of both tools. The comparison is based on the tool's popularity, ease of use, and pricing. We will also discuss each tool's features and USP in detail. 
The reviews are based on the opinions of over 100 professional writers and my personal experience. More than often, Grammarly comes on top, but Wordtune offers lower prices and a rewriting tool which makes it an interesting offer to consider. So let's go into the details.
Here is a quick comparison table highlighting Wordtune vs Grammarly:
| | | |
| --- | --- | --- |
|   | Wordtune | Grammarly |
| Key feature | Rewriting and clarifying text | Grammar, spelling, and plagiarism checks |
| Integrations | Gmail, Google Docs | Browser, Office, Gmail |
| Mobile App | iOS only | Android, iOS |
| Free Version | Limited usage | Limited usage |
| Plagiarism Detection | ❌ | ✅ |
| Tone Analysis | ❌ | ✅ |
| Readability Score | ❌ | ✅ |
| Paraphrasing Capabilities | ✅ | Limited |
| Fluency Enhancer | ✅ | ✅ |
Wordtune Vs Grammarly: Overview
Before comparing both tools, let's go through a quick overview. 
Wordtune Overview:
Launched in 2020, Wordtune is a considerably new platform that helps you write your material more attractively while correcting grammar-related errors.
Despite starting recently, the tool has successfully established itself amongst big names such as Grammarly, Rytr, and Ginger. The platform can help you fine-tune your blog posts, research papers, sales advertisements, or SEO-related content.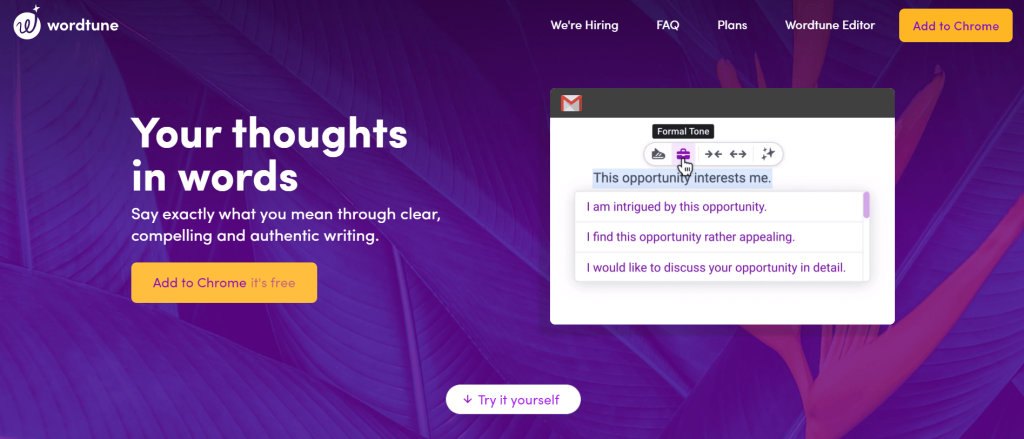 To use Wordtune, you can add the Wordtune extension to your Chrome browser and log in using your Google or Facebook account. The platform supports many websites, such as LinkedIn and Gmail, Facebook, Whatsapp Web, Slack Web, Twitter, and google docs.
In addition, you can highlight the part of any sentence and hit the Wordtune icon, and you are presented with many alternatives with advanced synonyms suggestions.
You can also copy and paste the entire document on Wordtune editor for more editing options such as tone selection, expanding/shortening the sentences, increasing fluency, etc. 
Grammarly Overview:
Starting in 2009, Grammarly has been one of the fastest-developing writing tools on the market. You only need to copy and paste your entire content on the Grammarly website. Within a few seconds, it highlights all the grammatical errors, such as spelling, punctuation, and syntax errors. Grammarly's natural language processing, robust AI tools, and statistical algorithms will help you write the most effective content without any mistakes.

With Grammarly, you can also modify your articles based on the type of audience you target, the formality level, and the writing intent. The AI highlights the required modifications based on your choices, such as different synonyms and unnecessary words. Finally, you end up with high-quality, error-free content that will keep your readers engaged. Grammarly also informs you of key points in your content, such as vocabulary level, word count, and readability.
Wordtune Vs Grammarly: Features
Here's a comparison of the features available in Wordtune and Grammarly. 
Wordtune Features:
Here are some of the important features of Wordtune:
The tool analyzes the sentences using AI technology and understands their original ideas.
Basic grammar checks such as punctuation, spelling mistakes, and syntax errors.
Google Chrome extension that works with Google Docs, WhatsApp Web, Gmail, Twitter, Slack Web, Outlook Web, etc.
It can dictate the tone of your article, such as formal, casual, emotional, compelling, and so on.
Sentence formatting to improve the flow of your writing.
More affordable yearly plan.
Includes a paraphrasing tool that helps you rewrite your material.
Multi-language translation support, including Korean, Russian, and Arabic
Grammarly Features:
Let's have a look at some of the key features of Grammarly:
Click on any word on any website, and the Grammarly extension provides you with the word's synonyms.
Web browser support for Chrome, Safari, Edge, Firefox, US, UK, Canadian, and Australian English language support.
Various enhancement suggestions include misused words/phrases, redundancy, intelligent synonyms suggestions, etc.
Unlimited Grammar checking in the free version.
Dedicated application on iOS and Android
Wordtune Vs Grammarly – The Accuracy
Wordtune Accuracy:
When it comes to accuracy, Wordtune does a fine job. The tool focuses more on rewriting, so whenever you highlight a segment from an article, it provides you with a few alternatives to your sentence with different synonyms and grammar corrections. You can choose the one you find the most accurate based on your writing style.
Now the alternatives don't always make sense. Sometimes the suggestions are so heavily paraphrased that they lose the original idea, and you have to make necessary changes to maintain the meaning of a certain section. However, if you are out of ideas, Wordtune comes up with good suggestions which appear as if an actual human writes them.
Grammarly Accuracy:
Grammarly is best known for highlighting grammatical errors, spelling errors, and styling issues. If you compare it with other writing assistants, Grammarly usually finds the most errors. There are correct suggestions and appropriate use of words. The plagiarism checker works fine and helps you generate unique material for your website or blog.
Overall, Grammarly has the upper hand regarding accuracy simply because of its years of experience and a huge database of synonyms and phrases. 
Wordtune Vs Grammarly – Price comparison
Here is the detailed pricing information for both tools:
Grammarly Pricing Plan:
Note: Check out our Grammarly Premium Free Trial here. 
Grammarly comes with 3 plans – Free, Premium, and Business. The free plan has 3 basic functions – Grammar checker, punctuation checker, and spell-checker.

The Premium plan provides you with more options to improve your content quality. You get smart word/phrase suggestions and the ability to find confusing and unclear words to enhance the level of your writing.
You can pay monthly, quarterly, and yearly:
The monthly plan comes at $30 with all the premium features.
The quarterly plan comes at $20 per month with a discount of 33%.
The annual plan comes at $144 per month with a discount of 60%.
Grammarly's business plan comes at $15 per month for each user.
Wordtune Pricing Plan:
Wordtune has three plans for its users – Free and Premium and the free plan only includes the basic rewriting feature with 20 rephases daily.
The premium plan allows you to access all the features, such as unlimited rephrasing, tone connection, shortening/extending the sentence length, and a grammar checker tool. The premium plan also includes a customer support service.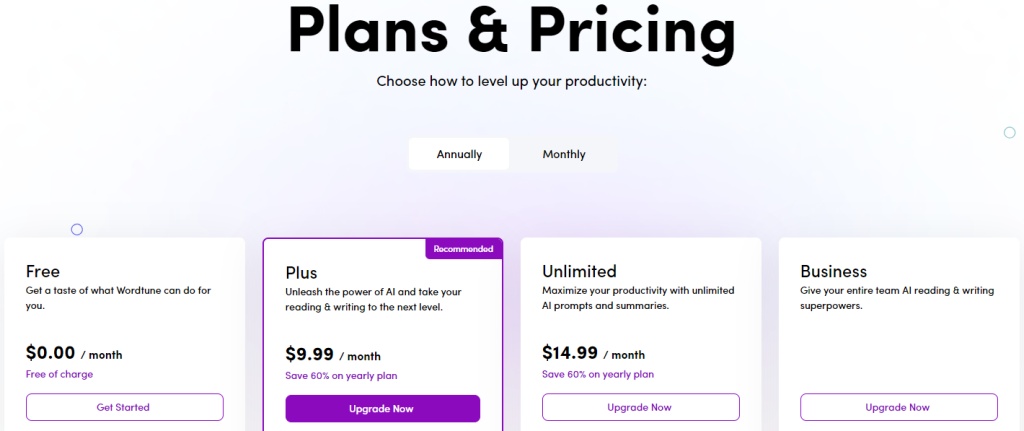 Here is how you can pay for the Wordtune:
The monthly premium plan costs you $9.99 with a 60% discount for the first month.

The Unlimited plan costs you $14.99 per month with a 60% discount.

You also buy a Business custom plan based on your team size. The plan comes with personalized service and a team billion option.
Wordtune Vs Grammarly: Pros & Cons
Here we have given the pros & cons of both Wordtune and Grammarly, let's get into it. 
Wordtune Pros: 
Easy-to-use interface 
Offers free version with limited features 
It helps to make your writing more concise and clearer 
Comes with free Word Add-In 
Value for money
24/7 customer support 
Wordtune Cons: 
Little bit expensive 
Some suggestions don't make any sense 
Grammarly Pros:
Highly accurate 
Simple to use 
Customization 
Easily understand explanation 
Offers plagiarism checker 
Massive accessible 
Grammarly Cons: 
A free version is limited in feature 
Need to improve customer support 
Wordtune Vs Grammarly: Which One Should You Choose?
The main feature of Wordtune is to analyze the content and rewrite the sentences for you, giving a fresh look to your content and keeping the readers engaged. This means it can be useful for SEO professionals looking for fresh, unique, attractive material, generating more organic traffic. 
The platform also benefits aspiring bloggers as natural language processing provides easier yet effective alternatives to your sentence based on tone, length, and style.
The platform offers a considerably cheaper monthly plan than Grammarly, which seems perfect for students who don't want to spend a large chunk of money on their thesis, essays, and other writing projects. The quick and easy grammar checker can help you meet your deadlines easily. 
On the other hand, Grammarly is suitable for more professional use, such as creative writing, professional freelance Writing, and Authors. All you need to do is copy and paste the entire article into the Grammarly editor, and it highlights all the grammar-related issues as well as other suggestions regarding tone, formality, and readability.
Grammarly is also suitable for medium and big businesses. You don't need to buy a separate premium plan for each writer. Instead, you can buy a team plan customized according to your team size and business requirements. 
Related Read:
Final Verdict: Wordtune Vs Grammarly
Whether you are a student writing your thesis, a professional content writer, or even a blogger, a writing tool is essential to produce attractive and high-quality content for the audience.
This article helped you understand the similarities and key differences between the two tools. Here are some suggestions:
If you want an easy-to-use, reliable tool with advanced features such as a plagiarism checker, go with Grammarly. Before buying a premium plan, you can test the free version and get a basic idea of the tool.
You can try out Wordtune if you want a cheaper tool with a grammar checker and a paraphrasing tool. 
Since there is little difference in the yearly plans of both tools, you are better off with Grammarly than Wordtune.
Frequently Asked Questions:
Which is the best Writing Assistant for Bloggers?
Wordtune is a good writing tool for bloggers because it has a paraphrasing tool and a grammar checker. It can be very useful in generating high-quality content for your blogs. 
What is a proofreading tool?
Proofreading is finding grammatical, syntax, and punctuation errors in written or printed material. There are several online tools available that help you with proofreading in an easy and effective matter. Grammarly is known as one of the best proofreading tools available. 
Which is the cheaper? Wordtune or Grammarly?
Wordtune is significantly cheaper than Grammarly, with a monthly plan of $9.99/month compared to $29.95.
Which is a better writing tool? Grammarly or Wordtune?
Grammarly is a complete writing assistant with a powerful grammar and plagiarism checker tool, but it is a more affordable choice with a paraphrasing tool.