Regarding content writing, grammar and spelling errors can greatly impact the quality of your article. To ensure mistake-free writing, many writers turn to grammar checkers like Grammarly and ProWritingAid. 
While both tools offer features to help writers improve their writing, their strengths and weaknesses differ. Grammarly excels at identifying basic mistakes and providing suggestions for clarity and concision, while ProWritingAid offers a more comprehensive analysis of sentence structure, vocabulary usage, and more.
In this article, we'll take a closer look at Grammarly vs ProWritingAid, weighing the pros and cons of each tool to help you determine which one best fits your writing needs.
Grammarly vs ProWritingAid: Overview 
Before starting the comparison of both tools, let's go through a quick overview of both tools. 
Grammarly Overview: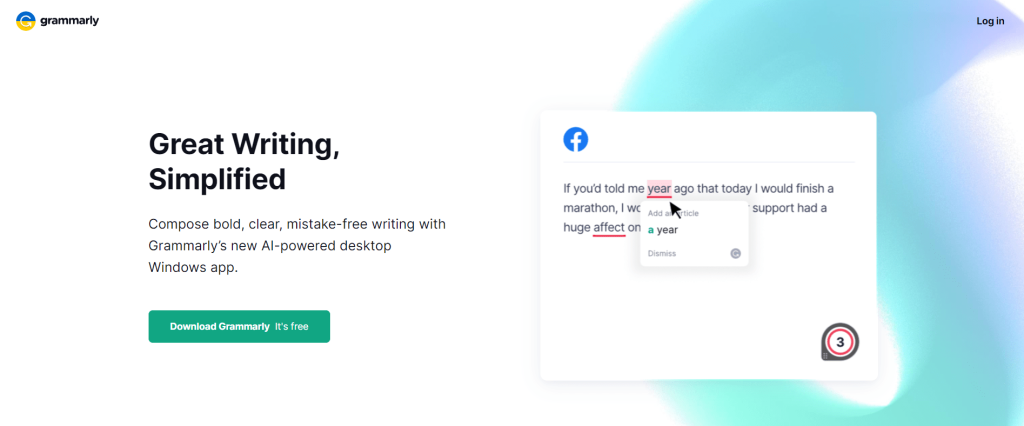 Grammarly is a tool used by more than 10 million users that analyzes the errors in your content and makes them appropriate. Mainly Grammarly is free. The free version gives essential grammar corrections like punctuation, spelling, grammatical errors, etc. While on the other hand, it also has a premium version that offers better composing and stylistic writing. 
ProWritingAid Overview: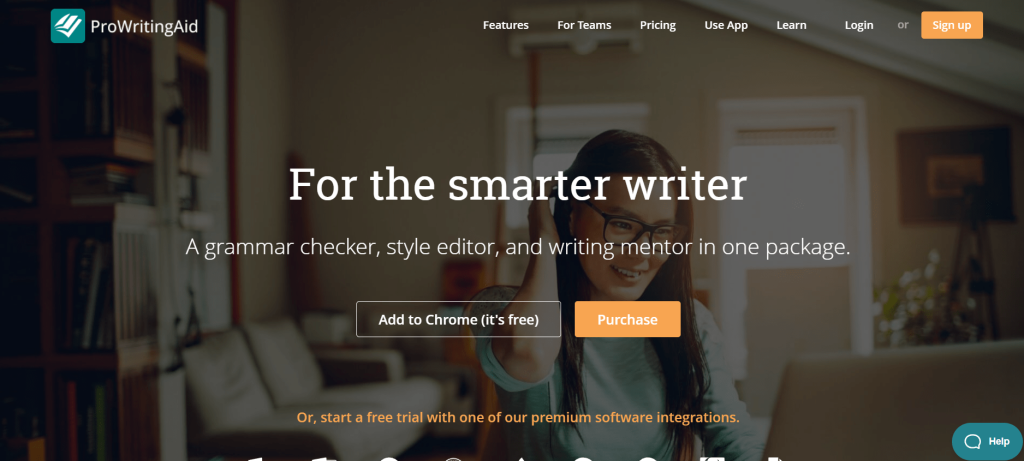 ProWritingAid is a tool used for Grammar checking that suggests valuable suggestions that can help you write valuable content without grammatical errors. It also has an online editing tool that gives you a detailed summary of your content and edits it for the betterment. In addition, this tool checks structural issues like punctuation, repetition of texts, spelling, etc. 
Grammarly vs ProWritingAid: Key Features 
As you have understood both Grammarly and ProWritingAid, let's understand the tools' features that can make your content more insightful. 
Grammarly Key Features:
Grammarly is a tool that allows you to create your dictionary by adding words from your content. 
It also recognizes the use of passive voice in the content and notifies the user about the overuse of passive voice. 
Grammarly enables identifying the reputation of words in your content and suggests changes.
Grammarly also helps in detecting plagiarism. 
It identifies the use of long sentences and shortens them.
Grammarly detects spelling mistakes and corrects them.
ProWritingAid Key Features:
ProWritingAid is a tool that checks your grammar and spelling-related mistakes.
The most important feature is checking the content's readability by identifying the paragraph's difficulty.
You can also order a human proofreader to evaluate your content in return for paid support.
ProWritingAid checks the word's usage and corrects the usage of the overused word.
It visualizes big paragraphs and shortens them to make the content compelling and clear. 
It also checks the repeated paragraphs and is of no use, which helps give the content a clear picture. 
ProWritingAid vs Grammarly: User Interface 
The user interface plays a key role. You can only take the tool's maximum benefit if the interface is user-friendly. No one wants to spend half of their time understanding a certain tool's work. No matter how good a tool's features are, it is only useful if it offers ease. So let's understand the Grammarly and ProWritingAid interfaces.
Grammarly Interface:
With Grammarly, you get three easy usage offerings. First, let's understand them one by one. 
Grammarly has a Google Chrome Extension. This plugin of Grammarly automatically plugs most features of Grammarly on the internet, making it easy to check grammar. Unfortunately, the plugin autocorrects your content, so you don't have to sit and edit. 
Another easy use that Grammarly offers is Microsoft Word Editor, which works like Grammarly Editor. It enables the suggestion to be directly implanted in Microsoft Word so that you don't have to use your writing software for editing. 
Apart from all these, correcting errors is so easy with Grammarly. You have to click on the error suggestion and can get your content error-free. The web editor of Grammarly is so easy that you can add it to the Chrome extension, making it easy to use. 
ProWritingAid Interface:
On the other hand, the ProWritingAid ease of use is a little complicated as the error suggestions are shown on the left side of the screen, for which you have to click on a small arrow and then hover over the text to see the recommendations.
As in Grammarly, you get to see the suggested improvements while writing, but in the case of ProWritingAid, you will see the improvements hidden that can create a mess during editing. 
As Grammarly has a Google Chrome extension the same way, ProWritingAid also has a plugin that helps in quick editing.
Still, the need for auto-correction in this plugin is the most significant disadvantage, which sometimes needs to be corrected. Grammarly is more convenient in terms of the user interface. 
Grammarly vsProWritingAid: Integrations 
Let's see the integration of both Grammarly and ProWritingAid.
Grammarly Integrations:

Grammarly has a Chrome plugin that works with the browser, including email, WordPress, Google Docs, and more. It also has other plugins for Microsoft Word and Outlook, and you can easily download the desktop version of Grammarly for your mobile keyboard or your Windows. 
ProWritingAid Integration:

ProWritingAid has the Microsoft Word plugin directly integrated into your word processor, which is available for Mac and Windows. Other plugins like the ProWritingAid extension help in editing everywhere you write online. It mainly integrates with Gmail, Facebook, WordPress, and other websites. 
ProWritingAid also has a google docs plugin that merges into the works processor for smooth editing.
 Grammarly vs ProWritingAid: Accuracy 
While selecting a tool that will be perfect for your writing and editing accuracy is a must. Everyone wants their content to be correct and effective; therefore, accuracy matters the most. 
Grammarly Accuracy: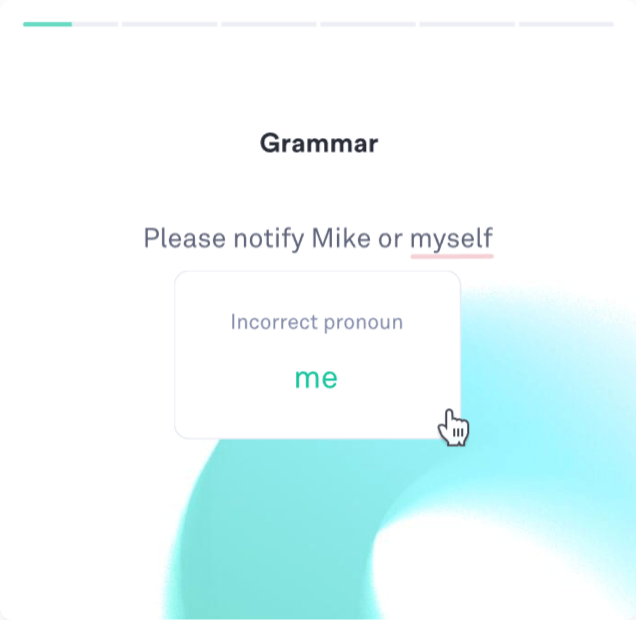 Grammarly is a tool that catches major to minor errors very quickly. This tool suggests the errors that help in making the content more compelling.
When you review the entire article, you will determine that Grammarly indicates errors, and its recommendations are usually more accurate.
Though sometimes Grammarly suggestions often change the sentence meaning, its false algorithm also leads to inappropriate recommendations and often makes you doubt your grammatical skills. 
ProWritingAid Accuracy: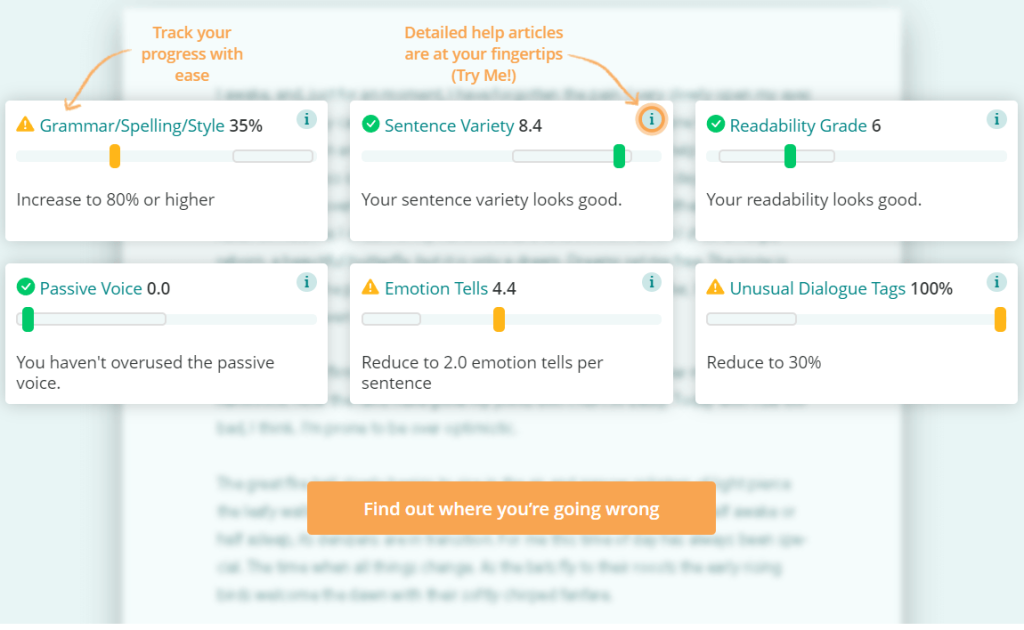 As related to Grammarly, ProWritingAid provides more suggestions throughout the article. ProWritingAid can remove the fluff content from the articles and take care of fragmented paragraphs and conversations more effectively. ProWritingAid offers more suggestions than Grammarly, but many people use Grammarly's suggestions. 
Grammarly vs ProWritingAid: Pros and Cons
As you have understood both the tools, let's quickly understand what the advantages and disadvantages of these are 
tools. 
Grammarly Pros:
Grammarly marks all the wrong words and helps you edit content in real-time. 
It offers plagiarism checking. 
Grammarly is beginner-friendly; you can use Grammarly as an absolute beginner without specific training. 
Grammarly Cons:
The free version of Grammarly is only suitable for spelling and grammatical errors. 
Grammarly Chrome extensions are not friendly on some websites.
Grammarly sometimes catches the wrong mistakes that can often lead to skill doubt.
ProWritngAid Pros:
ProWritingAid has more integration than other tools.
ProWritingAid has more features compared to other editing tools.
It is cheaper than other tools. 
ProWritingAid Cons:
ProWritingAid has slower editing
It does not have any mobile application for Android and iOS 
The plagiarism checker is only accessible for the premium plan.
ProWritingAid vs Grammarly: Pricing 
Pricing is also an essential factor in selecting a perfect tool. Let's compare the price offering of both tools. 
Grammarly Pricing:

Grammarly can be used for free if you are budget conscious. However, the free version offers limited features compared to the premium plans. The premium monthly plan costs $30 per month, the quarterly plan costs $20, and the yearly premium costs $12. 
ProWritingAid Pricing: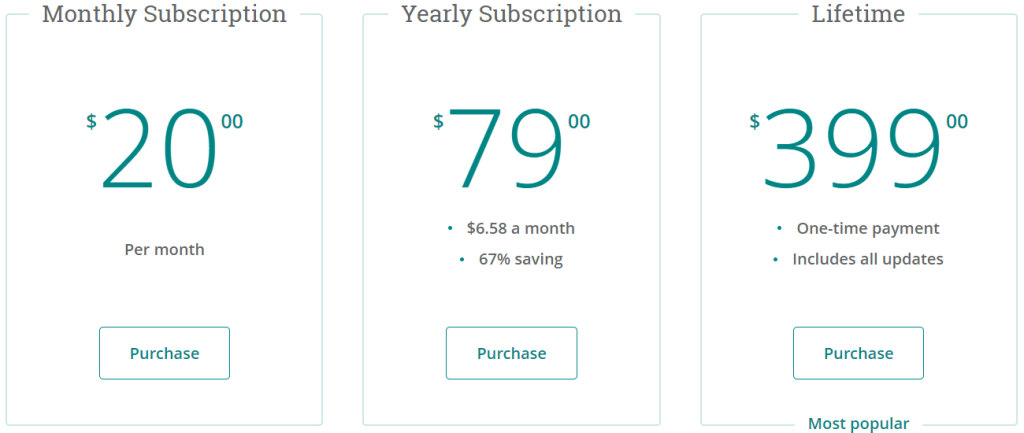 The ProWritingAid Google Chrome plugin offers only a limited feature; it generally has four pricing plans, the yearly cost is $79, and the lifetime plan is $399. The monthly subscription is $20 per month. 
Grammarly vs ProWritingAid: Customer Support 
In this section, we have compared the customer support of ProWritingAid and Grammarly. 
Grammarly Customer Support: 
Grammarly offers the best customer support team, and you can contact the 24/7 customer support team by submitting an email and ticket. In addition, you can directly visit its knowledge base and help center to find answers to your queries. 
ProWritingAid Customer Support: 
The customer support team of ProWritingAid is available only from Monday to Friday between 8 am to 5 pm. You can also contact it by email and "Contact Us." It also has an FAQ page to find articles on particular technical issues. 
Difference between Grammarly and ProWritingAid
Grammarly and ProWritingAid are two popular writing tools that offer different services to writers. Both tools are designed to help users identify and correct errors in their writing, but they differ in focus and approach.
Grammarly is primarily a grammar and spelling checker focusing on helping users improve their language fluency and accuracy. 
On the other hand, ProWritingAid offers a broader range of editing services, including stylistic and structural improvements. ProWritingAid also gives users detailed explanations of common errors and tips for improving their writing skills. 
While both tools can be useful for writers, the choice of which to use ultimately depends on the specific needs and preferences of the user.
Some may prefer the simplicity and ease of use of Grammarly, while others may appreciate the more comprehensive editing features of ProWritingAid.
Related Read:
Our Verdict: Grammarly or ProWritingAid?
Grammarly and ProWritingAid are great tools for grammar checks, plagiarism checks, editing, etc. However, talking about Grammarly is a convenient and easy-to-use tool. Though its pricing is a little high, it has full features and is one of the widely used writing assistants. 
Whereas if we talk about ProWritingAid, this tool is also very convenient, cheaper, and has more integrations. Ultimately, both tools offer endless features to assist you in writing better and more accessible. 
We hope that the comparison helped you decide on which tool to pick. So, what are you waiting for? Choose your pick based on the above comparison, and you will be satisfied.
FAQs: Grammarly vs ProWritingAid
How does Grammarly compare to ProWritingAid?
Grammarly is an automated grammar checker, while ProWritingAid is a more comprehensive writing suggestion tool that checks for grammar, spelling, style, tone, readability, and more.
Does Grammarly or ProWritingAid offer a free version?
Yes, both offer free versions with limited features. Grammarly offers basic grammar and spelling suggestions, while ProWritingAid's Free option includes spell check, grammar and style suggestions, readability reports, plagiarism detection, and more.
Is Grammarly or ProWritingAid better?
It depends on your writing needs. Each has pros and cons. For a basic grammar checker, Grammarly is a better choice; for complex writing suggestions and readability reports, go for ProWritingAid.
Does Grammarly or ProWritingAid have an app?
Yes, both offer apps for Android and iOS devices. However, the app versions of each tool have more limited capabilities than their online versions.
Does Grammarly or ProWritingAid offer discounts?
Yes, both offer discounts for various subscription plans and packages. Check their websites for more pricing info and deals.