Are you tired of repeatedly proofreading and editing your content? Struggling to find a reliable tool? Look no further than Quillbot: the AI-powered paraphrasing solution that can rephrase any sentence or paragraph in seconds. Simplify the tedious task of editing and generate high-quality content with ease.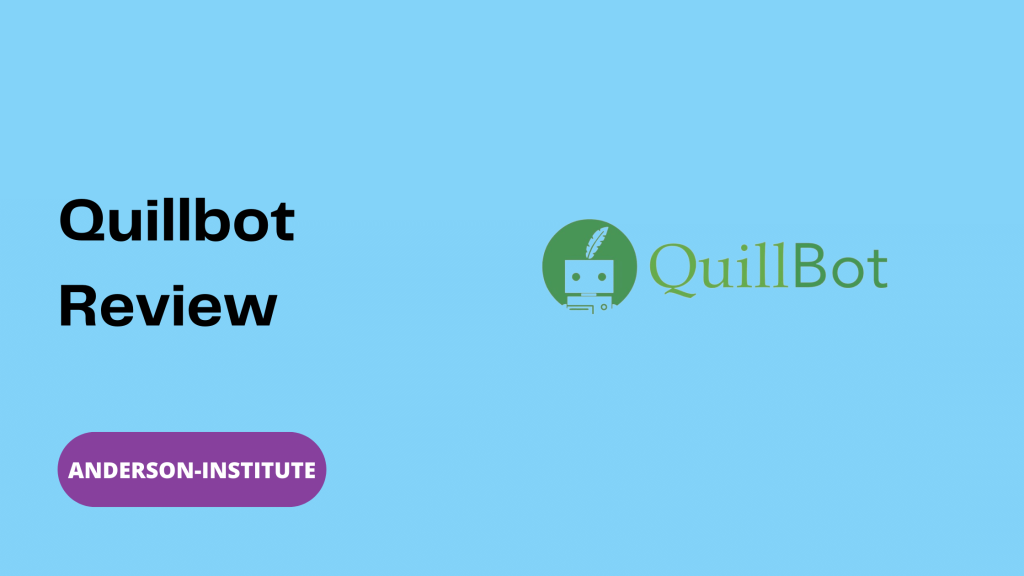 It's perfect for students, writers, and content creators who need to generate unique and plagiarism-free content, as well as those who want to improve the readability and clarity of their writing.
In this Quillbot review, we'll dive into this amazing tool's features, pros, and cons to help you decide if it's worth your time and money.
Quillbot Review 2023: In a Nutshell
Quillbot is an excellent writing tool that allows you to paraphrase your text, change it into different formats, and check for grammatical errors. It is an online tool that is simple to use and quickly produces quality content. It is especially useful for writers who want to keep their words consistent and avoid the typical legal jargon.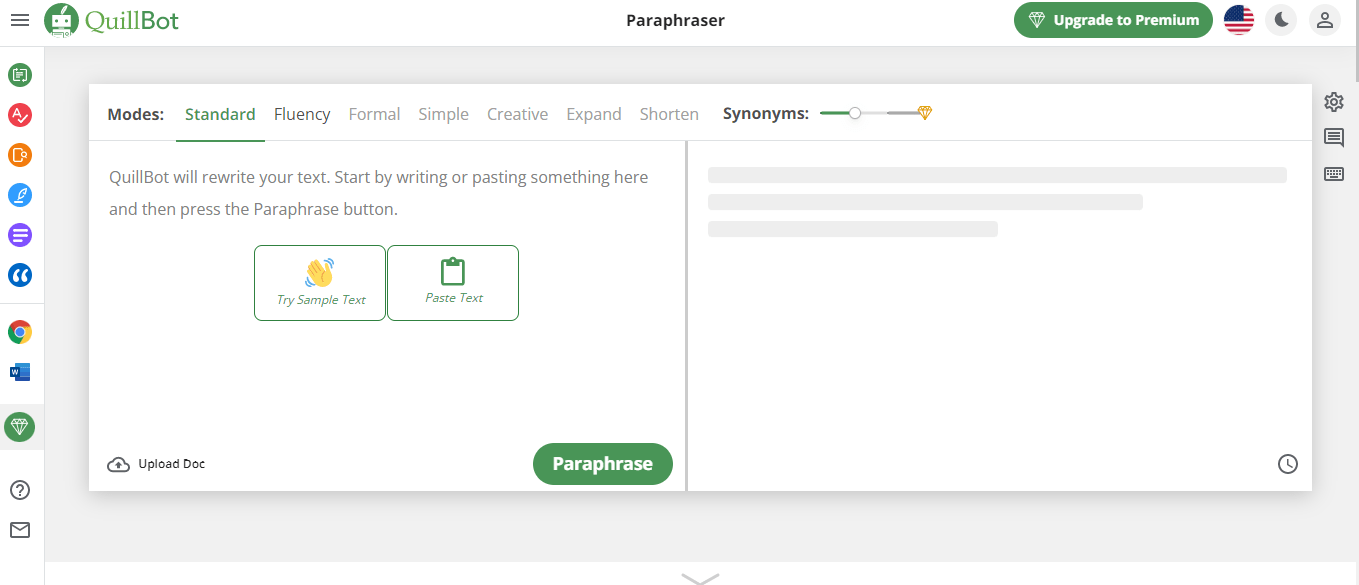 Quilbot's algorithms scan through your text and produce a rewritten version that is accurate and written. Quilbot's free features are effortless to use, and its premium features provide advanced editing tools that help to improve the quality of your writing by suggesting edits and changes.
Overall, Quillbot is a fantastic writing tool that can elevate your writing skills and help you produce better content with ease.
| | |
| --- | --- |
| Features | User-friendly interface, Seven Quill modes, Google docs, MS Word, and Google Chrome Extensions, Recommends synonyms, Offers AI functionalities, and Summarizes content. |
| Plagiarism checker | Checks duplicate content through articles, blogs, and research papers too. |
| Paraphrasing tool | Paraphrases content in 5 modes: Standard, fluency, formal, simple, creative, expand and shorten. |
| Grammar checking tool | Checks and corrects grammatical errors, spelling mistakes, word misuse, etc. |
| Summarizer tool | Summarizes long-form content into main points and a short overview. |
| Price | It starts from $4.17 monthly. |
| Who should use Quillbot? | Academic writers, essayists, social media influencers, and students. |
| Is It Worth Using Quillbot? | Yes, Quillbot is a powerful AI tool for rephrasing, grammar, summarizing, and plagiarism checks, valuable for users in need of these functions. |
Quillbot Review: Features
Quillbot offers excellent features to its users, and we decided to handpick them for you below.
Provides an easy-to-use interface to its users.
Paraphrases content into various tones using modes; standard and fluency modes are free, whereas formal, simple, expand, shortened, and creative ways for paid plans.
Recommends various synonyms for words to make writing more professional.
Google Docs, MS Chrome, and Google Chrome Extensions are available.
Summarizes long content into an overview with bullet points.
Developer API provides AI functionalities to improve writing.
Quillbot Plagiarism Checker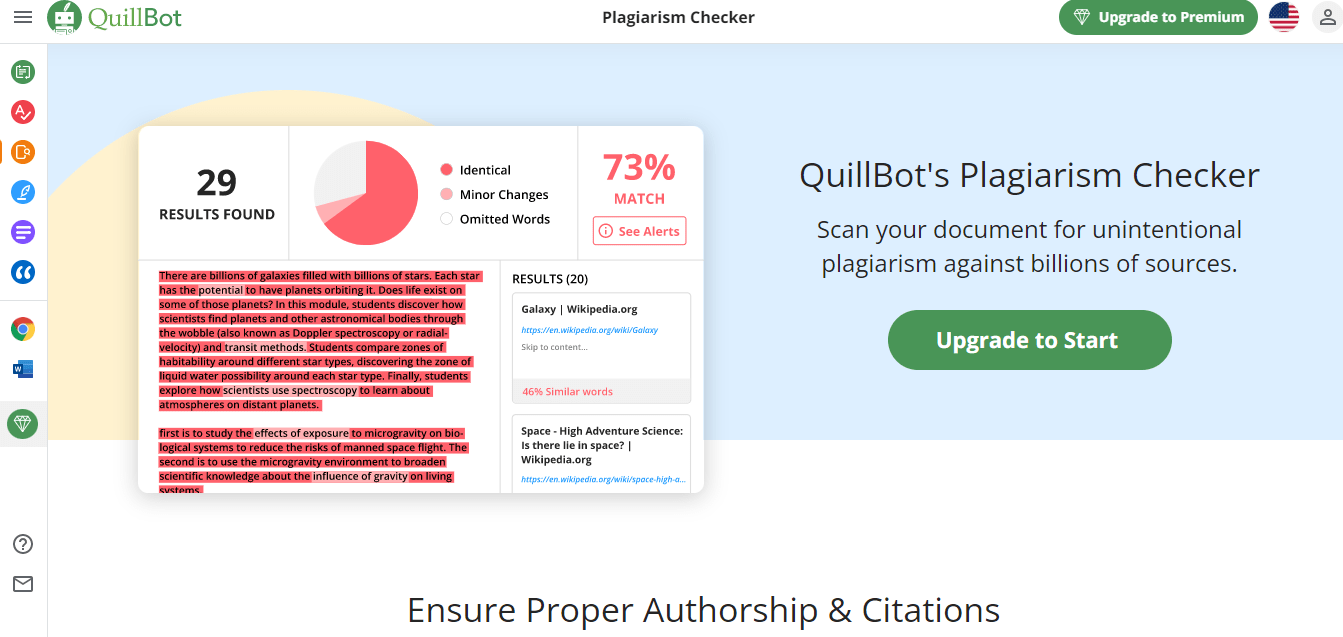 Quillbot offers plagiarism checker tools to its users with its paid plan, where users scan 20 pages each of 5000 words monthly. What makes Quillbot plagiarism checker stand out amongst the crowd of other plagiarism checkers in the market is its ability to check plagiarism not just through content, including blog articles, etc., on the internet but through research papers too. It thoroughly checks your content, making sure it's completely original.
Quillbot Paraphrasing Tool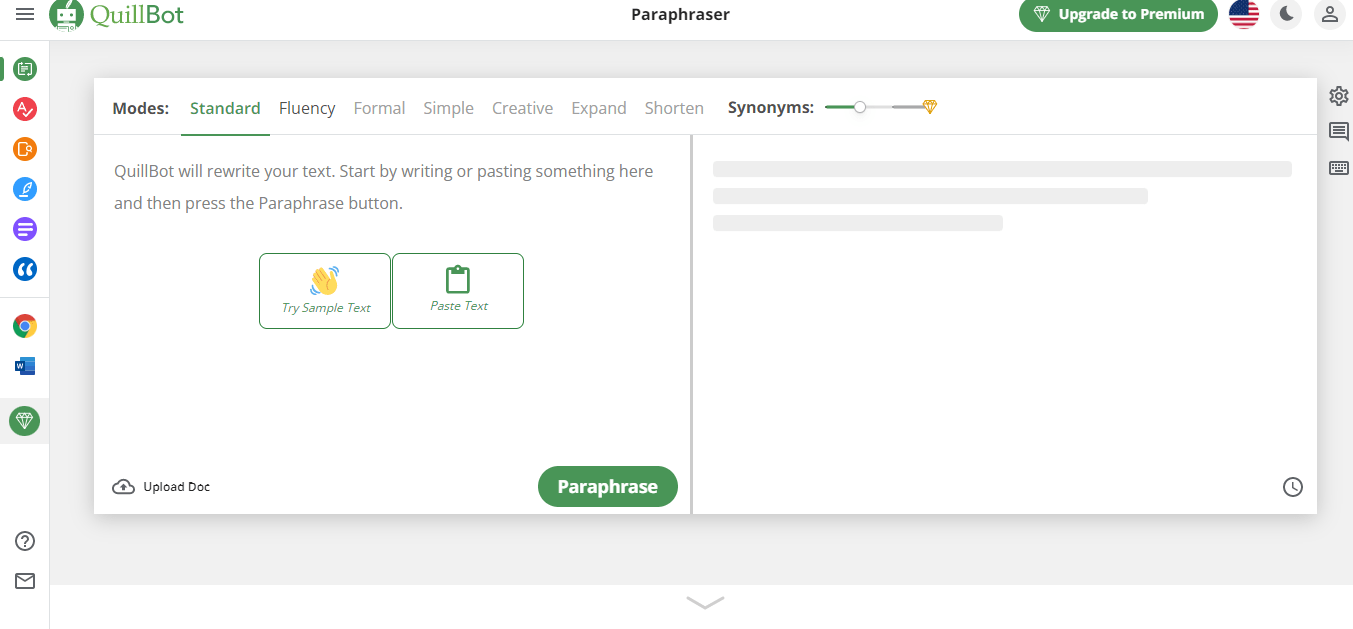 Quillbot is famous for its ability to paraphrase content into different tones and voices. The seven modes offered in the paraphrasing tool are standard, fluency, expand, shorten, formal, simple, and creative.
Unfortunately, the free users get access to only fluency and standard modes. Moreover, the ease of paraphrasing your content by copying, pasting your content, or uploading a doc makes Quillbot an excellent AI writing assistant.
Quillbot Grammar Checker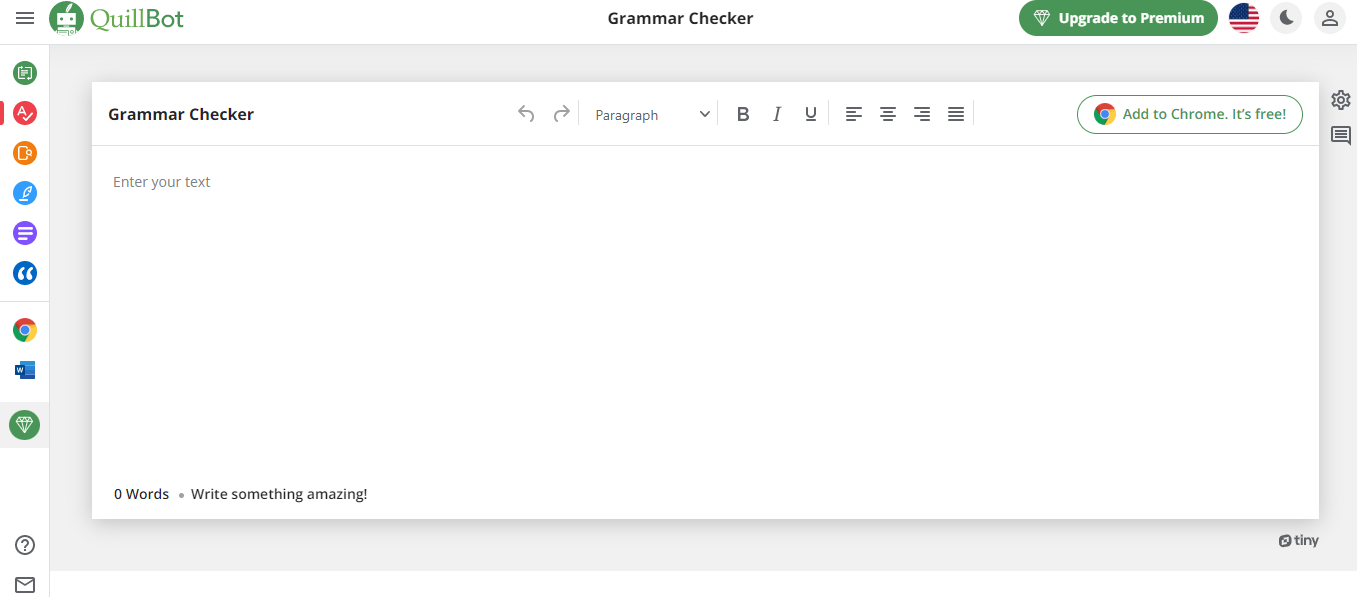 Quillbot provides grammar-checking tools to its users, making it an all-in-one writing software where users can check any grammatical error, wrong spelling, word misuse, punctuation, etc., without even signing up on Quillbot. By copy-pasting your content in the Quillbot bar, you are shown all the grammatical errors; you can click on the "Fix All Errors" to correct all the mistakes in the content. 
Moreover, Quillbot's AI-powered grammatical checker tool checks and corrects the slightest bit of your content to make your writing trustworthy.
Quillbot Summarizer Tool

A summarizer tool is a unique tool in quillbot designed for people looking to get an overview of their long-form content, including formal emails, research papers, news articles, etc., with a length slider option available to adjust the length of the summary. The summarizer tool on Quillbot summarizes your content in two ways noted below.
Key Sentence:  The key sentence mode in the summarizer tool of Quillbot summarizes your content in the form of key points or key sentences, making it easy to digest the content
Paragraph: Your content is summarized into a paragraph without disrupting its original context with the help of the paragraph mode of the quillbot summarizer tool.
Quillbot Review: Pricing Explained!
Quillbot offers a free plan to its users with sufficient features. The features in the free quillbot plan are.

Free Plan:
125 words for paraphrasing.
Two free writing modes. ( standard and fluency)
Three synonym choices.
One freeze phrase or word.
1200 summarized words.
Premium Plan:
Now, let's discuss the pricing of the Quillbot premium plan.
| | |
| --- | --- |
| Annual | $4.17 per month |
| Semi-annual | $6.66 per month |
| Monthly | $9.95 billed monthly |
You are provided with a 100% money-back guarantee within three days of purchase of the premium Quillbot plan if you change your mind after buying it. You also get the unique advantage of pausing your subscription during a break.
The paid plan of quillbot gives a ton of features to its users, including.
Unlimited words for paraphrasing.
Access to all seven quill modes.
Four synonym choices.
Unlimited freeze phrases and words.
Six thousand words in the summarizer.
Fast processing speed.
Advanced grammar rewrites.
Plagiarism checking.
Compare modes. (desktop only)
Who Should Use Quillbot?
Quillbot is a fantastic paraphrasing tool helpful to every individual who needs a better content writing style with additional features like plagiarism checking, grammar checking, summarizing, etc. Still, it's best suited for the following people.
Academic writers
Academic writers should opt for Quillbot to give their writing a more professional touch. The feature of plagiarism checking in research papers best suits academic writers needing clear, concise, and original content with fancy synonyms.
Students
Students searching for an AI writing assistant for their university assignments should go for Quillbot because it gives a standard tone to their writing. It's a great help in terms of cross-checking your long assignments too.
Essayists 
Quillbot corrects any mistake in your content and provides different modes helpful for essayists to set a correct tone for debates. Furthermore, it makes a speech appear more fancy and professional.
Social media influencer
Social media influencers are always in the eyes of several social media users, and writing long and boring posts with wrong grammar is miserable for such famous personalities. Quillbot is a life-saver for summarizing long posts and cross-checking them with AI tools.
Quillbot Review: Pros and Cons 
Despite many features, we have found many pros & cons in Quillbot, and let's have a deep dive into it.
Pros: 
Check grammatical errors 
Offers a free plan as long as you want to use 
Offers video caption generator 
Easy-to-use interface 
Offers money-back guarantee 
MS Word, Chrome extensions, and Google Docs are available 
Cons: 
Limitation of characters in paid & free plans 
Need to upgrade customer support 
Quillbot Review: Alternatives
While QuillBot offers a range of features for writers, several alternatives in the market offer similar capabilities. Here are a few notable alternatives to consider:
JasperAI:

JasperAI is an AI-powered writing tool that focuses on generating high-quality, human-like content. It offers features like content rewriting, summarization, and even content generation.

Grammarly:

While Grammarly is primarily known for its grammar-checking capabilities, it also offers a paraphrasing feature that can help writers improve the clarity and coherence of their content.

Spinbot:

Spinbot is a paraphrasing tool that helps writers rewrite content to make it unique. It can be useful for quickly creating variations of existing content.

Word Ai:

Word Ai is an advanced AI-powered tool that creates high-quality, contextually relevant content. It can be used for content spinning, rewriting, and even generating articles.

Spin Rewriter:

Spin Rewriter is another tool focusing on content spinning and rewriting. It can help users create multiple versions of an article while maintaining readability.
These alternatives vary in terms of features, pricing, and focus. Depending on your writing needs and preferences, one of these alternatives is a better fit for your workflow. 
Is it Worth Using Quillbot?
A clear and straight answer to this question is. Quillbot is worth using, whether the free plan or the budget-friendly paid one.
Quillbot gives fluency to your writing and makes it more presentable, checking the grammatical errors in the free plan and plagiarism checking and summarizing your content with the paid plan.
The only dissatisfaction users find in Quillbot is its word limitation available in the free plan. However, this will retain its advantages of making boring and informal content more professional and interesting.
Related Read;
Summing Up! Quillbot Review (2023)
We're going to end here. Hopefully, by this point, you have a firm understanding of Quillbot. Each component of Quillbot is thoroughly explained in the article above.
If you are a writer or need assistance with your writing, we highly recommend using Quillbot, a superb paraphrase tool with additional features. If you want a past perfect article, blog, newsletter, etc., you can use Quillbot's free plan, but paying for the paid plan is a terrific choice if you're a professional writer.
We hope the above article has effectively reviewed Quillbot for you. Do share your thoughts about QuillBot in the comments section below.
Frequently Asked Questions
How many people can use Quillbot with its paid plan?
Only a single account can use Quillbot with its paid plan.
What is the word limitation on free Quillbot use?
The word limitation on Quillbot is 125 words for its free plan.
Will Turnitin detect Quillbot?
No, Turnitin cannot detect Quillbot due to its inability to see paraphrased content, and Quillbot focuses on paraphrasing content.
Is Quillbot worth using?
Absolutely! Quillbot is excellent for students, writers, and professionals who want to write content quickly and need a grammar checker and plagiarism checker. It serves as an all-in-one solution!