Want to know about ProWritingAid? If so, then check this article on ProWritingAid Review.
Like traditional writers, modern writers also need tools for writing better content and driving more traffic. ProWritingAid counts as one of the best in the list of such tools.
Since several other such tools are abundant, there can be a problem when deciding whether or not this platform is the right one for someone. Are you also in the same dilemma? Don't worry. We have got you covered!
We have been using ProWritingAid for a while now, and we decided to ease your hassle of deciding whether it is worth investing for by writing this review. Our unbiased review will cover all the crucial aspects, including features, integrations, grammar checkers, pricing, and more!
By the end of this review, you will get a complete idea about ProWritingAid. So, without further ado, let us get into the details below!
ProWritingAid In a Nutshell
ProWritingAid is a writing assistant tool to check their content's grammar and spelling. Besides serving this basic need, ProWritingAid also does a great job at increasing the readability of your content and, therefore, makes the reading experience worthwhile for your audience.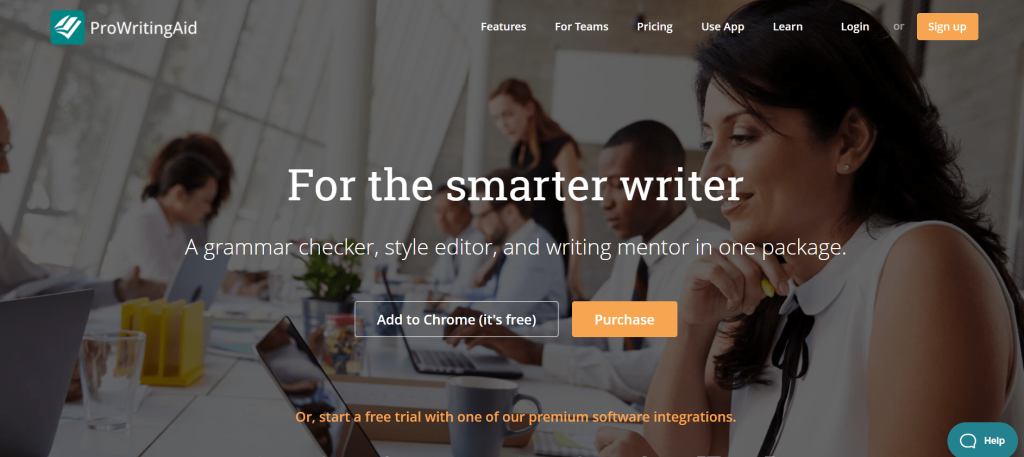 Using the tool is also quite simple. All that you need to do is:
Open the software on the app or browser
Paste your content or upload your document to or on it, respectively
The program will start scanning and analyzing your content
The editing panel pops up on the screen
ProWritingAid underlines and highlights all the errors and grammatical mistakes in your content if there are any.
The other downsizing aspects of your content, such as weak sentence structure, bad style, etc., are also highlighted.
With the report of everything wrong in your content, you also get suggestions with which you can better your content and fix its mistakes.
Key Features of ProWritingAid:
ProWritingAid is renowned for the ease of usage it provides with the help of its efficient vital features. Some of its key features that we liked are as below:
Writing Style: You can use it to overt the usage of repetitive sentences and passive voice and remove useless adverbs.
Grammar: The feature helps in fixing all the grammatical errors in your content and thus improving your content's quality.
Sticky Sentences: Betters the flow of your content by removing its sticky sentences.
Overused: Alerts you about the overused words and provides suggestions.
Sentence Length: Identifies false usage of extensive sentence length.
Transitions: Betters the usage of transitional sentences in your content.
Pronouns: Points out the correct pronoun usage percentage in your content.
Repeats: Identifies the usage of repeated words and phrases.
Pacing: Helps in identifying the pace of your content's story.
Consistency: Provides a report of capitalization, punctuation, and spelling
How is Grammar Checker?
ProWritingAid's grammar checker tool is better than most of the other currently available grammar checking software present in the current marketplace. Its algorithm underlines and highlights all of the grammatical errors in your content. This includes punctuation marks, fragmented sentences, redundant words, incorrect tense, and voice usage.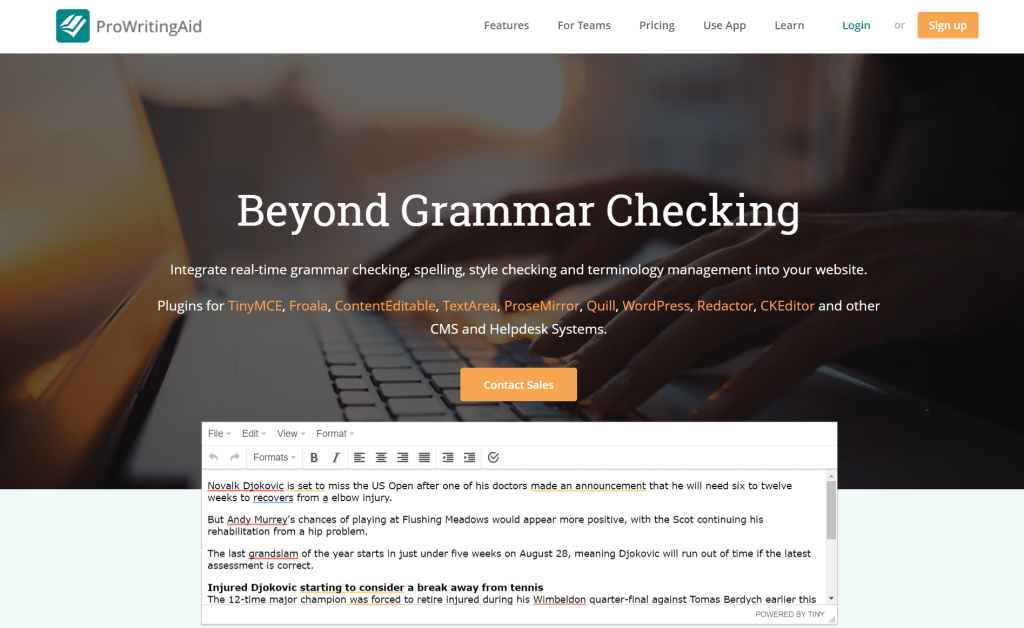 Its recommendations are known to be near exact and provide a good insight into your content. This insight includes everything from the readability to the flow of the content. But the platform is used explicitly by novelists and blog writers as its detailed grammar reports help them create a better narrative for their audience.
Plagiarism checker:
The plagiarism checking feature is one of the premium features of ProWritingAid. You can only use it after availing of the special premium plus plan. Even in this plan, you can conduct up to 60 plagiarism checks in a year.
As for the workability and exactness of the feature's reports, the tool analyzes all the content of your document and points out the specific lines that are plagiarized. It also links the pages from which those lines are plagiarized. This feature can be beneficial for students who have to write assignments and academic essays. Additionally, if you are a writer, you can run your content through its plagiarism checker to ensure your delivery is 100% unique.
Integrations
ProWritingAid is a tool made specifically for professional writers and therefore offers integration with all the renowned systems used by professional writers from all around the globe. Below are some of the most common platforms into which ProWritingAid can be integrated.

Google Docs
MS Word
Text Files
Customer Support
No matter how excellent a tool is, you may need assistance whenever you get stuck into a problem. When it comes to customer support, ProWritingAid did not disappoint us. ProWritingAid is a platform that bases its work ethic on providing quality customer support to its users. Therefore, it offers various ways of communicating with customer support and figuring out how to get out of the query you're facing.

The platform offers customer support through messages, calls, and emails. The platform provides customer service 24×7. Hence, you will not get stuck even if you're working in the middle of the night.
What Makes ProWritingAid Better Than Most Other Platforms?
Compared to the other big names from the list of top writing assistance providing tools, such as Grammarly and Ginger, ProWritingAid thrives by staying at its position and growing in its popularity mainly due to its professional user interface. It does not have a great appeal to its dashboard, but the ease of usage is commendable.
The features of ProWritingAid are more in numbers and efficiency. When used with other writing software, such as Word and Docs, it makes minimal mistakes, and there are a lot few glitching features in its latest updates.
The provision of 25 reports highlighting the importance of all the content's aspects makes it a reliable option if you want to be thorough with your content. The lack of too many designs in the dashboard and workspace of ProWritingAid also makes it a better option for those who prefer to work in a cleaner and more comprehensive environment.
Who is ProWritingAid for?
ProWritingAid is a great writing tool for any type of writer. Be it a blogger, academic writer, copywriter, or any other writer category. But when seen by the specialized features it provides, such as flow enhancing and premium plagiarism checking, there are specific categories of writers that this tool will suit best.
Some of these categories of writers are:
Novelists
Bloggers
Content Writers
Academic Writers
The key reason for this recommendation is its ability to work on long-form content and be thorough with it.
ProWritingAid Pricing:
ProWritingAid provides three key forms of payment methods to its users. Since the platform offers a subscription-based service and hosts a large user base, it is not surprising to see its affordable cost. The features it provides are more than enough if used correctly and consistently. You can also save a few bucks on your purchase with our exclusive ProWritingAid Discount Code here.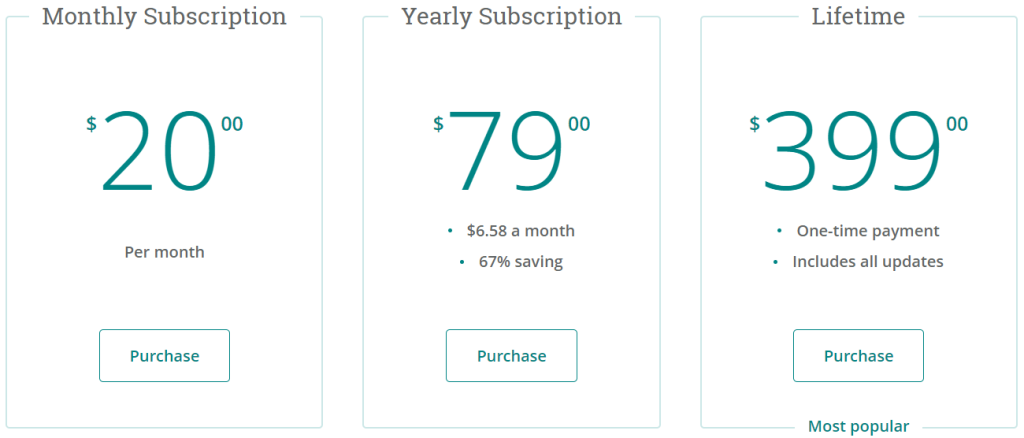 The three pricing plans ProWritingAid offers to its users are $20 per month, $79 per year, and $299 for a lifetime. The platform also provides a 14-day trial to those who want to try the platform out. You can test the tool for 14 days with its free trial and upgrade to the premium plan to enjoy its unlimited features!
Related Read:
EndNote
ProWritingAid is a comprehensive writing and editing tool. The features it offers to its users are easy to use and do not require much of a learning graph. Its premium features, such as plagiarism checking, make it best for novel and long-form academic writers who want to check the originality of their work and ensure its novelty.
Even among its competitors, ProWritingAid is one of the best options to choose from as it provides an excellent cost-to-value ratio. It runs on the web, mac, and windows. Therefore, it is a perfect option for most professional writers who want to make their content better for their audience or get better grades.
In the end, our experience with ProWritingAid has been good, and we recommend using the tool if you are looking for the best writing tools in the market!
We hope our ProWritingAid review helped you decide whether the tool is 'worth it or skip it.' Over to you. Are you choosing ProWritingAid? Let us know your thoughts in the comments section below!
Frequently Asked Question:
Does ProWritingAid offer a free trial?
ProWritingAid offers 7 days of a free trial for all its users, where you will get all features and integration which premium offers.
Can I upgrade my license?
Absolutely, you can upgrade your license from monthly to yearly and yearly to lifetime subscription.
Is there any refund policy on ProWritingAid?
For any reason, if you are not satisfied with its service, you can claim a full refund within 14 days of purchasing it. For more queries about the refund policy, contact its customer support team at hello@prowritingaid.com.
Does ProwritingAid work offline?
Sadly, ProWritingAid is not accessible offline as its integration is required connection for work.
Does ProWritingAid offer any student discount? 
ProWritingAid happily offers a 20% discount for students via the Student App Centre.